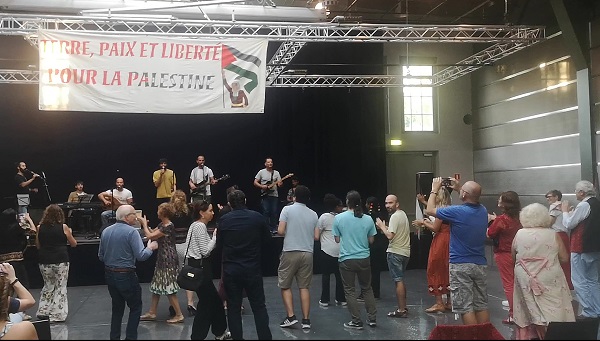 Credit: CPJPO
On Saturday 2 September 2023, the Comité pour une Paix Juste au Proche-Orient asbl (CPJPO; Committee for Fair Peace in the Middle East) organised a musical event called "Stand Up for Palestine" in Luxembourg City.
On the agenda that evening were free concerts by Watar Band (Gazan pop and rock) and Naser Halayka and friends (oud and vocals) at the Tramsschapp cultural centre in Luxembourg-Limpertsberg. According to the organisers, about 60 people attended this evening of music and exchanges.
One of the bands, Watar Band, made a stop in Luxembourg for the event as part of their Belgium tour. Two of the musicians came directly from Gaza, before being joined by four others who live in Ghent in Belgium. The other band, Naser Halayka and friends, came over to Luxembourg from Trier in Germany especially for the concert.
Chronicle.lu had the opportunity to speak with Watar Band guitarists Mohammad Lomani (lead guitar) and Khamis Abu Shaban (bass guitar) about their recent concert in Luxembourg. Mohammad Lomani is a Palestinian musician and IT specialist living in the Gaza Strip. In 2009, he co-founded Watar Band, a pop, rock and alternative music band which produced two albums in 2015 and 2019 and has performed at various international festivals. Khamis Abu Shaban lives in Gaza City in Palestine and is a fellow co-founder of Watar Band. He is currently the administrator of the Gaza branch of the Edward Said National Conservatory of Music. The musicians had played several concerts in Europe three times before (in 2012, 2013 and 2016) and the Music Fund (a Belgian non-profit organisation and regular partner of CPJPO) facilitated their recent visit to Luxembourg.
Chronicle.lu: Was this your first time performing in Luxembourg?
Mohammad Lomani & Khamis Abu Shaban: Yes, this is the first in Luxembourg but not the first in Europe, as this concert took place after touring Belgium for a full week of daily concerts with Al Fanfardjati brass orchestra and in cooperation with Music Fund organisation.
Chronicle.lu: How did you find the engagement from the audience in Luxembourg?
Mohammad Lomani & Khamis Abu Shaban: It was absolutely a great day with the Luxembourg audience as they clapped hands, they sang and also danced [to] the music, and that [is] all we need as performers on the stage.
Chronicle.lu: Please tell us a bit about the origins of your band and your genre of music (plus choice of instruments).
Mohammad Lomani & Khamis Abu Shaban: Watar Band was formed in 2008 in Gaza Strip/Palestine and depending on the instruments we played back then (unamplified instruments like oud and classical guitar and darbuka), we started playing Palestinian folk at the beginning, then when adding electric guitar and bass and keyboard and other instruments, we now play pop and soft rock and alternative oriental music.
Chronicle.lu: We understand that your band was set up in the Gaza Strip as a means to express your feelings through music and culture and spread a message of peace - how has life in Gaza impacted your music and what do you hope international audiences, like those in Luxembourg, will learn/take away from your music?
Mohammad Lomani & Khamis Abu Shaban: Watar Band was formed in Gaza in 2008. Any artist will be affected by the atmosphere in which he lives, so living in Palestine and its circumstances like occupation in the first place, and the division between Fatah and Hamas, we were affected from inside and that gave us the precision to make music that we love so now we have two music albums Ghareebon hona and 30 alf shaghleh. We sang some of these tracks with the audience of Luxembourg and [we] think that people have understood us and they felt what we have gone through in order to get out from Gaza to be able to perform music to them that day; our message is and was only about peace and love.