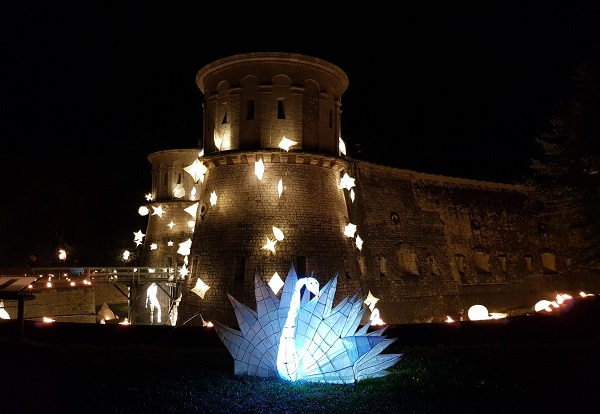 Dräi Eechelen Museum during Nuit des Musées 2019; Credit: Jazmin Campbell
Luxembourg's Ministry of Culture has provided an intermediate review of the cultural season for summer 2020.
Despite the challenges posed by the COVID-19 health crisis over the last few months, the cultural sector has shown resilience, innovation and the ability to adapt. Now with theatres and cultural centres preparing to reopen their doors for the 2020/21 season, the Ministry of Culture took stock of the cultural offer during the summer period.
Among the cultural institutions identified in the interim report, the diversified programme of concerts, plays and films attracted at least 18,000 spectators. Similarly, the member museums of ICOM Luxembourg took in nearly 42,000 visitors in July and August, while the Museums of the City of Luxembourg alone attracted more than 29,000 visitors during the same period.
More specifically:
- A total of 1,280 people attended seven Lëtz Play concerts, 1,378 attended eight Apéro Jazz concerts and 242 attended four Sunset Strings concerts during the "Bock op" festival at Neimënster in July and August
- 488 people attended the Mamer TheaterContainer, which featured fifteen theatre and jazz sessions in this municipality in August
- A total of 651 people attended the five concerts and 604 attended the six films which made up the "Ënnert dem Wassertuerm" festival at Opderschmelz Dudelange in August and September
- 4,192 people attended 36 concerts, DJ sets and / or performances and 149 spectators watched seven films at Kufa Summer Bar between June and August
- There were 547 admissions for five artist residencies at Kufa Squatfabrik
- 1,200 people attended thirteen concerts at Trifo Apéro between July and September
- 59 children attended three story readings and one theatre workshop at Kulturhaus Niederanven in August and September
- A total of 7,720 people attended nineteen concerts and three musical documentaries at the Congés annulés festival at Rotondes in August
In addition, museum members of the ICOM attracted 41,097 visitors in July and August, including:
- 4,286 at the National Museum of History and Art (MNHA)
- 2,595 at the Dräi Eechelen Museum
- 4,639 at the Roman Villa Echternach
- 1,277 at Villa Vauban
- 2,056 at Lëtzebuerg City Museum
- 10,280 at the Grand Duke Jean Museum of Modern Art (Mudam)
- 3,321 at the National Museum of Natural History (natur musée
- 1,247 at Casino - Contemporary Art Forum
- 65 at the National Literature Centre (CNL)
- 889 at the Musée d'histoire(s) Diekirch
- 46 at Millemusée & Naerdener Gare
- 1,632 at Minett Park Fond-De-Gras - Train 1900
- 318 at Minett Park Fond-De-Gras - Mining train "Minièresbunn"
- 1,132 at the National Museum for Historic Vehicles
- 403 at Musée Rural Binsfeld
- 171 at the National Resistance Museum
- 245 at Kulturhuef ASBL
- 6,175 at the National Museum of Military History Diekirch
- 320 at "A Possen" Museum