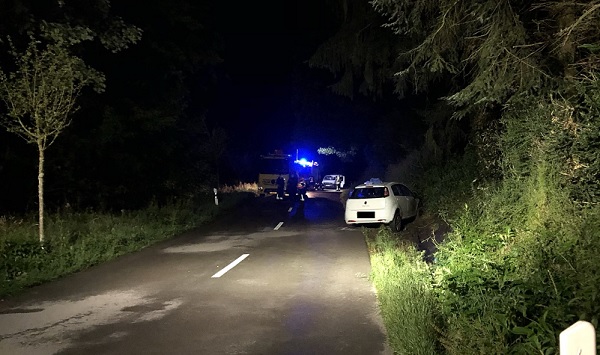 Fatal accident scene near Hunnebour; Credit: Police Grand Ducale
On Friday evening, 10 July 2020, a 60 year-old woman died in a single-vehicle accident near Mersch.
The accident happend at around 21:15 on the CR105 between Hunnebour and Mersch. The car which was being driven by the woman, the sole occupant of the vehicle, crashed head-on into a roadside wall.
The accident was reported to the police and the emergency services arrived a short while later. The woman was seriously injured but died a short time later at the scene of the accident.
The road was closed to traffic for several hours. The public prosecutor ordered a forensic examination of the scene to determine the cause of the accident.