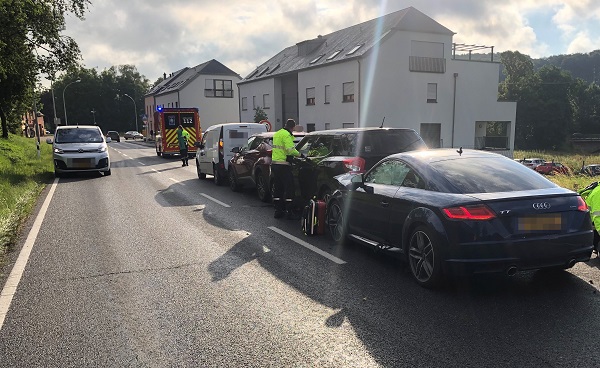 Credit: Police Grand-Ducale
The Grand Ducal Police have reported that a serious multi-vehicle crash occurred on Thursday in western Luxembourg.
According to police reports, a rear-end collision involved four vehicles occurred around 07:50 yesterday morning between Redange and Reichlange. A road user reportedly hit the last vehicle in a row of stationary vehicles stuck in rush hour traffic, causing the hit vehicle to push into the vehicle in front, which in turn crashed into the vehicle preceding it.
The driver in the last car in the line was taken to hospital. Of the other five people involved in the accident, one reportedly suffered minor injuries. It has since been confirmed that three people were seriously injured in the crash.
Both lanes were closed during the salvage and clearing work. One lane was opened at 08:40, with the site cleared and opened again to traffic around 09:00.