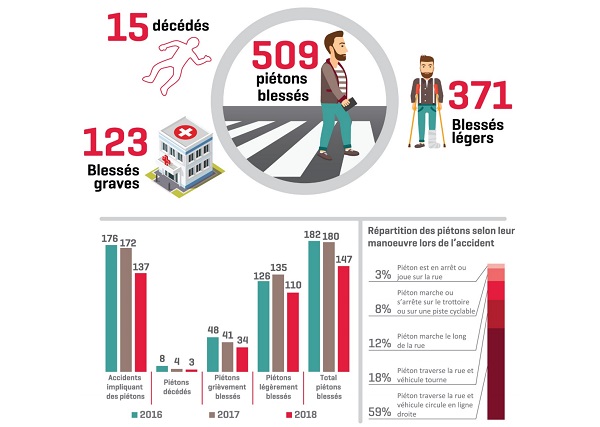 Credit: Statec
Statec, the national statistical agency, today published a report revealing that fifteen pedestrians lost their lives on Luxembourg's roads between 2016 and 2018.
Published as part of the joint awareness campaign of the Ministry of Mobility and Public Works, the Road Safety Association and the Luxemborug Police, the study found that 513 pedestrians were involved in a total of 485 accidents on Luxembourgish roads from 2016 to 2018. Fifteen of those victims lost their lives, whilst 123 were seriously injured, 371 were slightly injured and only four escaped unharmed.
The year 2018 saw 147 pedestrians killed or wounded on Luxembourgish roads. This number was down from 180 in 2017 and 182 in 2016. Of a total of 509 wounded pedestrians last year, 54% were women (275) and 83% were residents. The average age of injured pedestrians was 39 years old.
Nevertheless, the study found that pedestrians aged 65 and over were the most likely to die as a result of a road accident; of the fifteen pedestrians who lost their lives in the last three years, nine (or 60%) were 65 or older.
Perhaps unsurprisingly, 95% of pedestrian injuries resulted from accidents in built-up areas: 84% occurred in streets where the speed limit was 50 km/h, although 11% took place in 30 zones.
The results of the study also confirmed that the months of November to January are most prone to accidents, since the days are shorter and pedestrians are often less visible. Indeed, 40% of pedestrians who were victims of a road accident in Luxembourg occur in these three months.
The full report is available, in French, at https://statistiques.public.lu/fr/actualites/conditions-sociales/sante-secu/2019/11/20191128/index.html.