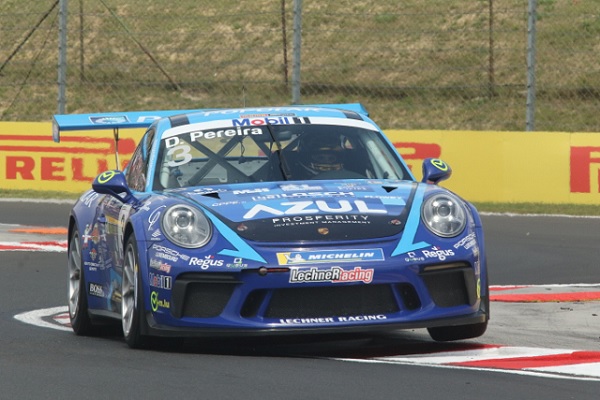 Luxembourg racecar driver Dylan Pereira has finished in fifth place and gained twelve points in the Porsche Mobil 1 Supercup in Budapest, Hungary.
Following his first victory in the Porsche Mobil 1 Supercup, Dylan Pereira travelled to Budapest this past weekend for the sixth race of this championship, which accompanies Formula 1.
The Hungaroring circuit is one of the most complicated in the championship since it is very technical, short and narrow, thus making it very difficult to overtake. Nevertheless, Dylan Pereira got off to a good start and was the second fastest driver in the free practice, despite the rain and a very slippery track.
In the timed practice, the asphalt was dry and everything changed: car configuration, driving style, braking points, etc. Dylan Pereira was one of the first to go out on the track and, after four rounds to study the conditions of the circuit, the Luxembourgish racecar driver ended up in the top five before returning to his box for the usual adjustments and tyre changes. He returned to the track just six minutes from the end and with almost a minute and 50 seconds per lap, Dylan Pereira had to do his best in just three laps.
However, the Momo Megatron Lechner Racing team driver's session was interrupted during his best lap due to a run-off from another driver. Despite this setback, Dylan Pereira got the fifth best time and could leave the third row on the starting grid.
At the start of the race, Dylan Pereira took a hit at the first corner but was able to maintain fitth place. Still fighting for third place, he sometimes put pressure on Tio Ellinas, who drove in front of him; at other times he was forced to defend himself against Florian Latorre, who followed closely behind.
In a race where overtaking is almost impossible, the Luxembourger finished with twelve points in fifth position and climbed to eleventh place of the championship overall.
Whilst the Porsche Mobil 1 Supercup will now be taking a one-month break, Dylan Pereira will continue on the track for the Porsche Carrera Cup Germany. Next weekend, the Luxembourgish driver will travel to the Netherlands for the ninth and tenth races of the German competition on the Zandvoort circuit, where he last year finished in the top three.