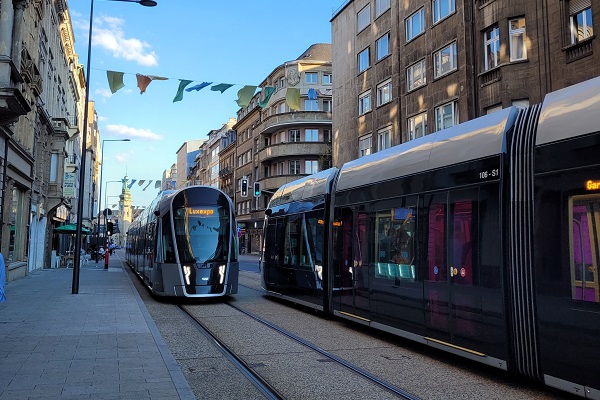 Tram leaving Luxembourg Gare in the direction of Luxexpo in July 2022; Credit: Jazmin Campbell
Luxembourg's Minister for Mobility and Public Works, François Bausch, recently issued an open letter in which he responded to criticism over plans for a tramline extension along Avenue de la Porte-Neuve in Luxembourg-Ville.
In recent weeks, various individuals and organisations, such as natur&ëmwelt asbl, have expressed concerns over the tram expansion, particularly in relation to its potential impact on the municipal park in Luxembourg City.
In his open letter, Minister Bausch assured that there was no intention to construct a tramline through the municipal park.
In the context of the national mobility plan 2035, Minister Bausch recalled the important role played by the tram in terms of urban mobility, not least in order to respond to an estimated 400,000 additional journeys to be made in Luxembourg City and surrounding municipalities by 2035. In future, people are expected to be able to benefit from a tram network of over 60 km with fourteen platforms.
In order to prevent the different tramlines in the city centre from "getting in each other's way", Minister Bausch confirmed that there were plans to build a new 350-metre tram bypass through Boulevard Royal and Avenue de la Porte-Neuve.
He expressed his confidence in the proven ability of Luxtram's team to "[leave] behind a more beautiful city than it was before the tram", even on "sensitive routes". He thus assured that Avenue de la Porte-Neuve and the municipal park entrance would be "left more beautiful and greener after the works than they were before".
Minister Bausch also recalled that Luxembourg invests more money per capita in its rail infrastructure than any other European country. He concluded by warning against a return to "a debating culture from the last century", stressing that time is running out and "people and our cities need an answer to the climate and energy crisis now".