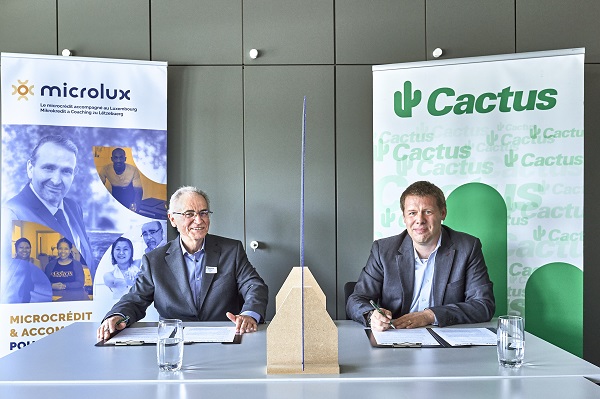 Rémy Jacob, president of Microlux, and Gilles Feipel, Cactus Marketing, signing the partnership agreement at Cactus in Windhof; Credit: Cactus
The Cactus company has signed a partnership agreement with Microlux, the first microfinance institution in the Grand Duchy, to reinforce its long-standing commitment to promoting entrepreneurship in Luxembourg.
The Luxembourg family business Cactus has been committed to supporting entrepreneurship in the country and actively seeking partnerships with local companies and start-ups for several years. Through this newly concluded partnership, Cactus now aims to help entrepreneurs who do not have access to traditional bank credit. Indeed, it is clear that financial exclusion is a reality in Luxembourg. This is why Microlux, joined by the Foyer Insurance Group, has assigned itself support and microcredit missions for people wishing to create or develop an economic activity in Luxembourg. Since its creation in 2016, Microlux has granted more than 100 microloans allowing the creation of 70 small businesses and more than 100 jobs.
Concretely, Cactus has committed itself to providing support and advice to Microlux as well as to its beneficiaries and to promoting them through digital, print and physical visibility in its various points of sale across the country.
Gilles Feipel, Cactus Marketing, explained: "Entrepreneurship is deeply rooted in our DNA and we are convinced that it is our responsibility to support and promote the entrepreneurial spirit in Luxembourg so that innovative companies and projects could see the light of day and thus contribute to boosting and diversifying the economy in Luxembourg".
Rémy Jacob, President of Microlux, added: "We are happy to have signed a partnership with Cactus, a company with a strong local roots, known to all in the Grand Duchy. More than ever, in this difficult period, it is vital for the economic and social fabric of the country to support all those, many, who have ideas to create or develop their small business, and need the microcredit which will make the difference".