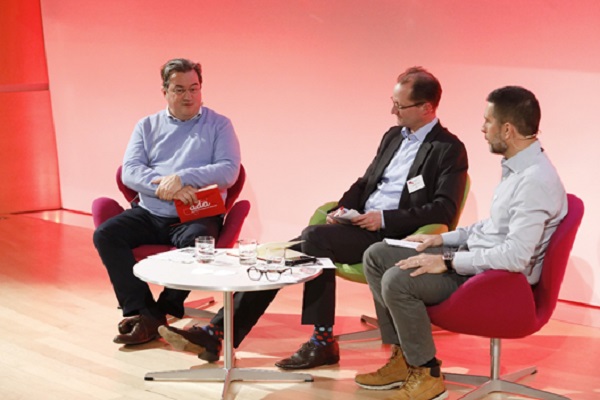 L-R: Jean-Philippe de Schrevel, Founder and Managing Partner of Bamboo Capital Partners; Axel de Ville, Management Advisor at ADA Luxembourg; Jean-Baptiste Lenoir, Co-founder and President of Qotto; Credit: Olivier Minaire
The 48th Midi de la Microfinance, centred around innovation and impact investing, took place on Thursday 27 February 2020 at the Banque de Luxembourg.
Organised by ADA with the support of the InFiNe.lu network and Luxembourg Development Cooperation, this edition of the Midi de la Microfinance centred around the theme "Africa needs innovations to develop and therefore funding for its innovations".
Guest speakers Jean-Philippe De Schrevel, Founder and Managing Partner of Bamboo Capital Partners ($400 million Luxembourg investment fund) and Jean-Baptiste Lenoir, co-founder and President of Qotto (Franco-African energy tech company), discussed together the necessary symbiosis between investment, innovation and inclusion in order to improve the daily life of the population at the base of the pyramid.
Other speakers at the event included Mélanie Mortier, Senior Portfolio Manager-Private Banking Investments at Banque de Luxembourg, Axel de Ville, Management Advisor at ADA Luxembourg, and Manuel Tonnar, Director of Development Cooperation and Humanitarian Affairs at Luxembourg's Ministry of Foreign and European Affairs.
The concrete example of Qotto, "a business that changes the game, which has an impact on people's lives" according to moderator Axel De Ville, kickstarted the Midi. This company, present in Benin and Burkina Faso, provides good quality solar kits to poor households, who will pay with a microcredit of less than a dollar per day, via their mobile. With this kit, rural populations make a long-term investment in their daily lives and no longer have to spend a fortune on the generator that must be supplied with oil. They also have access to clean energy which costs them four times cheaper. In addition, some can earn money or simply pay for the kit by providing energy to other residents of the village.
A total of 10,000 people in rural areas have access to light, the internet and financial services thanks to the start-up which has marketed these products since 2016. In a world where one billion people live without electricity, both the need and the market seem endless. Jean-Baptiste Lenoir, whose company has a positive EBITA, explained: "In fact, we have decentralised a service necessary for living and doing business with micro-infrastructures, solar kits that can last 15 years".
Jean-Philippe De Schrevel added: "It is a financially promising investment with colossal social impacts" of which, out of the six impact investing funds, three operate as a venture capital. He also stated that "[t]he private sector will be necessary to achieve the Sustainable Development Goals" by combining public and private funds, for mixed funding.
Faced with the need to develop and fund innovations in Africa, the speakers stressed that banks must change their investment perspective and focus on the medium / long term (and no longer the short term). Jean-Philippe De Schrevel specified that this was especially the case in light of the climate and social emergencies: "Those who will not adapt will not be part of the solutions […] will be part of the problem".
The financial sector will therefore have to change its perspective, according to the speakers. Manuel Tonnar thus welcomed the two main speakers, described as being "both investors and innovators both, visionaries, both for sustainable development". Mr Tonnar also recalled that Luxembourg recently invested €5 million in the ABC impact investment fund, managed by Bamboo Capital in the Grand Duchy.
From 25 to 27 May 2020, on the sidelines of the Assizes of Cooperation dedicated to innovation, ADA is organising an Inclusive Innovation Village at the European Convention Center in Luxembourg-Kirchberg. This event, free and open to all, will be an opportunity to meet 30 innovators who are implementing ideas to help disadvantaged populations around the world. The 49th Midi de la Microfinance will also be organised in this framework on 27 May 2020.