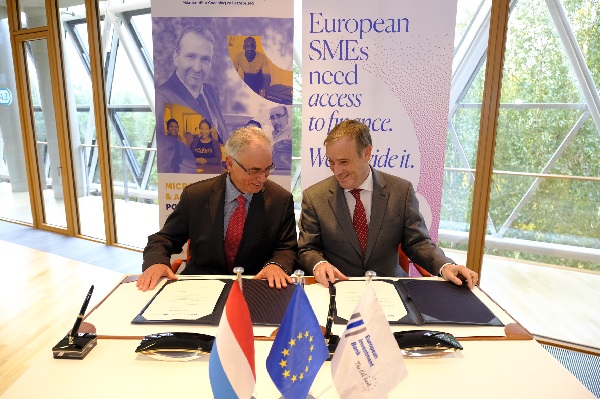 Credit: EIB
The Luxembourg-based European Investment Fund (EIF) has announced that it is investing in microlux to support inclusive and solidarity-based microfinance in the Grand Duchy.
On Thursday 26 September 2019, Rémy Jacob, President of microlux, and Roger Havenith, Deputy Chief Executive of the EIF, signed an agreement confirming the acquisition by the EIF of a €500,000 stake in Luxembourg's leading microcredit institution. The official signing ceremony took place at the European Investment Bank's (EIB) headquarters in Luxembourg, which provided the opportunity to hold a conference on the social impact of local action in the Grand Duchy aimed at the country's economic and civil society players.
Financial and social inclusion remains a major challenge for the EU and one of the goals of its EUROPE 2020 strategy. Microfinance has proven itself as an effective tool that helps to create jobs, improve living conditions and reduce vulnerability and poverty.
Rémy Jacob commented at the signing ceremony: "We live in an environment where essential goods are available. However, in order to make these goods available to everyone, basic economic and financial means are necessary. With this EIF investment, microlux and its volunteers will be able to support a larger number of microentrepreneurs, offering them more microloans and a better future".
Roger Havenith added: "The EIF is proud to be able to strengthen its initial partnership with microlux and provide it with additional resources. We are also pleased to be able to implement the EaSI Capacity Building Investments programme in the Grand Duchy of Luxembourg. The EU Programme for Employment and Social Innovation enhances microlux's ability to support microentrepreneurs having difficulty accessing traditional bank loans in Luxembourg and across the Greater Region".
Indeed, the EU-financed Programme for Employment and Social Innovation (EaSI) enables financial intermediaries to obtain the necessary capital to launch their microentrepreneurship and social entrepreneurship activities. Through the EaSI Capacity Building Investments Window, the EIF, which was entrusted with its implementation by the European Commission, has already deployed €14 million worth of capital via six partners in Europe and is currently appraising eleven applications.
Through the EaSI Guarantee Window, €234.4 million worth of portfolio guarantees have been allocated to around 100 financial institutions in the 28 EU Member States and some neighbouring countries that have participated in the programme since 2015. These guarantees will help mobilise €2.7 billion in financing for European micro-enterprises and social enterprises. To date, nearly 60,000 enterprises have benefited from the EaSI Guarantee and have thus been able to access finance more easily through professional channels.