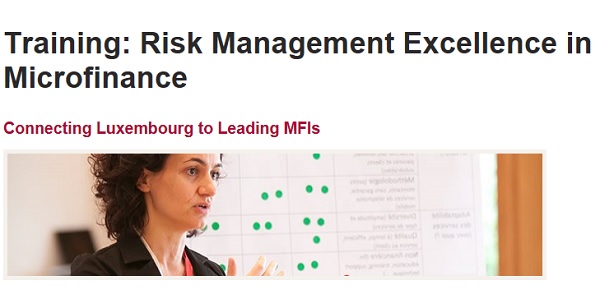 ADA has announced details of its next "Risk Management Excellence in Microfinance" course being held in Luxembourg from 18 to 22 November 2019 at the Chambre de Commerce in Luxembourg-Kirchberg.
The main objective of the 12th edition of the training Risk Management Excellence in Microfinance is to allow the CEOs and high level executives of leading microfinance institutions (MFIs) to understand the importance of risk management and the mecanisms in order to establish a specific risk management culture in their institutions.
The various topics covered during the training are: risk management positioning; corporate governance; positioning of partners and stakeholders about risk management the Luxembourg Microfinance Investment Funds Activity; operational risk management and credit risk; risk assessment and identification; risk cartography; introduction and application to the Risk Management Graduation Model (RMGM); risk management strategies; case studies; the coaching experience
Confirmed speakers include Ligia Castro Monge (Microfinance and Risk Management Expert), Yves Deceuninck (Independent Consultant and Coach, project coach), Benjamin Gauthier, (Partner at PWC Luxembourg, ALRIM Board Member), Samuel Grand (Executive Committee Member, Chief Risk Officer at Rothschild Europe, Luxembourg, ALRiM Member, project coach), Thierry López (Senior Vice President - ExCo Member, Chief Risk Officer of Northern Trust Global Services SE, ALRiM Board Member), Guy Mertens (Partner at Plutus RIC, project coach), Gilles Ossana de Mendez (HR consultant and Coach at Inspirance Consulting), Sergio Scandizzo (Head of Model Validation at the European Investment Bank (EIB), Luxembourg, project coach) and Kaspar Wansleben (Executive Director of the Luxembourg Microfinance and Development Fund (LMDF)).
On the afternoon of 21 November, participants will attend the European Microfinance Week at the Neumünster Abbey and the 10th European Micro­finance Award Ceremony at the EIB.
The training targets CEOs and high level executives of leading MFIs, who have already created or are in the process of creating their own Risk Management department.
The Luxembourg Ministry of Finance co-finances the experts and management fees, accommodation (nights and breakfasts from 16-23 November 2019), lunches on seminar days as well as a city visit. Participants therefore contribute €1,000 (including VAT) to these fees, as well as travel costs and personal expenses.
To register, see https://www.ada-microfinance.org/en/events/training-risk-management-excellence-in-microfinance.