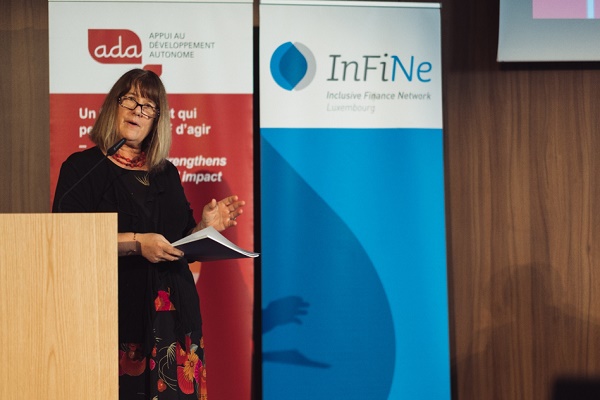 Katharine McKee, Board Director, Microinsurance Network;
The occasion of the 44th Midi de Microfinance held on 7 June 2018 was centred around microinsurance, hence the name change to Midi de Microassurance for this edition.
The latest edition of the Midi "Client's journey into microinsurance: Nicaragua and the Philippines experience", hosted by ADA, dealt with client experiences in Pakistan and the Philippines.
"Risk management for poor people" is the definition of microinsurance by Katharine McKee, director of the board of directors of the Luxembourg-based Microinsurance Network. This topic was highlighted in front of the audience of the Arendt House at the 44th Midi, where the floor was given to speakers from particularly vulnerable countries, the Philippines and Pakistan. The conference was moderated by Matthew Genazzini, Technical Support Manager for Microfinance Institutions (MFIs) at ADA.
The Philippines has 50 million micro-insurance risk management policies, starting at $3 per year, out of 100 million people. It is one of the most developed countries in the sector, with their experience and the development of products that are most adapted to particular risks. "The country's regulators are supporting the development of these services, which makes the job easier," said Jonathan Batangan, senior vice president of the PJLI Group of Companies, Philippines.
The sector is developing with the most innovative ideas to cover the most vulnerable people the fastest. In the Philippines, an application has been specially developed to confirm survival during a disaster, or a crowdfunding platform, Our Help.com, has recently been set up to allow private individuals to Philippines for $1 per year. In addition, to protect clients, both from Pakistani MFIs and the Philippines, microinsurance products are offered to clients, whether or not they are required, along with other microfinance products, to support their clients in their development. an income-generating activity.
As a representative of one of the largest insurance companies in Luxembourg, Microinsurance Network board director Katharine McKee pointed out during the question-and-answer session with the public, "The insurance sector in Luxembourg should be inspired by microinsurance by its innovation, its simplicity and the facilitation of access to customers! ".
Luxembourg investors can also contribute to the development of the sector, still little known in the country, as Katharine McKee concluded: "By virtue of its role as a major investor in impact investment products, Luxembourg investors can also contribute their capital to microinsurance."