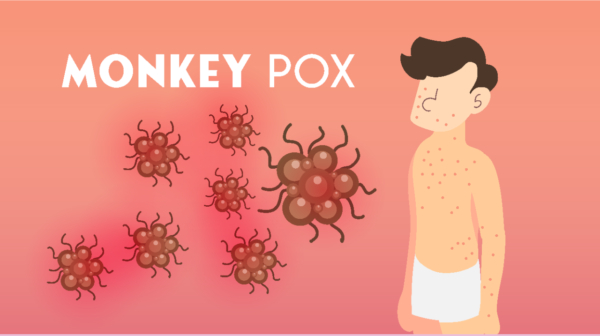 Credit: MSAN (sante.lu)
On Friday 24 June 2022, Luxembourg's Ministry of Health confirmed two new cases of monkeypox virus infections in Luxembourg residents, bringing the total number of known cases in the Grand Duchy to three.
The first case in Luxembourg was diagnosed on Wednesday 15 June 2022.
As in the majority of the cases described in Europe, the signs of infection of the patients are essentially cutaneous and localised in the genital area, and the general condition of the infected individuals is good.
Transmission of the virus typically occurs through close, intimate contact.
For this reason, the Ministry of Health insisted again on the importance of protection and avoiding risky situations.
The infection can affect anyone. However, the recent joint report by the World Health Organization (WHO) and the European Centre for Disease Prevention and Control (ECDC) (https://monkeypoxreport.ecdc.europa.eu) shows that the vast majority of people currently affected by the virus are men and particularly men who have had sexual relations with men, unrelated to people returning from endemic areas (Africa). The risk of becoming infected increases with the number of partners.
It is recalled that the disease can cause:
Pimples on the body (on the face, in the mouth, the palms of the hands, the soles of the feet, at the level of the sex and the anus, on the bust or the limbs)
Fever
Swollen and painful glands, under the jaw, in the neck or in the fold of the groin
Sore throats
Headaches
Muscle pain
Tiredness
After a few days or weeks, the pimples dry up and become scabs. The scabs fall off, then the lesions heal. These symptoms are not systematic and vary from person to person. Sometimes there is no fever at all and sometimes very few pimples.
A sick person can contaminate as soon as the symptoms appear and until the lesions have healed.
As long as there are no symptoms, there does not appear to be a risk of transmission.
In case of symptoms and suspicion of monkeypox, the Ministry of Health has advised people to avoid close contact with other people and to consult a doctor as soon as possible. The person concerned can also contact the CHL's Infectious Diseases Department via tel.: 4411-3091 (office hours) or 4411-2730 (hospitalisation).
Further information on monkeypox virus and infection is available online via: www.sante.lu.