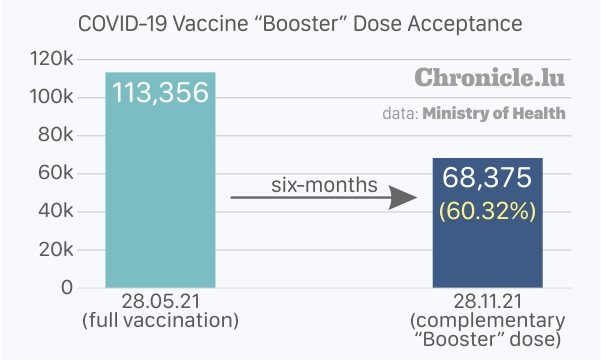 To date, Luxembourg has administered more than 68,000 complementary "booster" COVID-19 vaccine doses.
As of Sunday 28 November 2021, a total of 68,375 booster doses of the COVID-19 vaccine had been administered in the Grand Duchy. This represents 60.32% of the 113,356 individuals who had a complete vaccination schedule (two doses of Pfizer-BioNTech, Moderna or AstraZeneca vaccines or a single dose of the Janssen vaccine) six months ago, i.e. 28 May 2021.
Last week, between Monday 22 and Sunday 28 November 2021, 20,109 booster doses were administered in Luxembourg, marking the highest weekly total and nearly twice as high as the 11,163 booster doses administered the previous week.
As of 9 November 2021, Luxembourg began offering COVID-19 booster shots to people aged 65 and over and healthcare professionals. This has now been expanded to include all fully vaccinated individuals over the age of 18 six months after receiving the Pfizer-BioNTech or Moderna vaccine, four months after receiving the AstraZeneca vaccine or one month after receiving the Janssen vaccine.