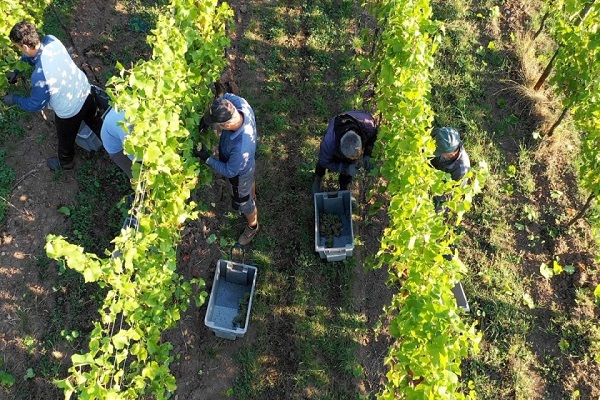 Seasonal workers in agriculture / viticulture;
Luxembourg's Ministry of Agriculture, Viticulture and Rural Development has confirmed that both employees and seasonal workers in the agriculture and viticulture sector will be provided with COVID-19 antigen self-tests throughout the 2021 season.
Cutting fruit trees, picking asparagus, picking grapes, picking apples: agriculture is naturally subject to the change of the seasons. Employing seasonal workers from the Greater Region and EU countries is essential for many winegrowers and farms in Luxembourg.
With a view to the upcoming seasonal and harvesting work, the Ministry of Health and the Ministry of Agriculture, Viticulture and Rural Development have drawn up guidelines this year to reduce the risk of the spread of COVID-19 when using seasonal workers regarding vegetables, fruit and viticulture as well as in agriculture. The recommended precautionary measures concern travel, accommodation, sanitary rules and work organisation of seasonal workers.
Rapid tests for seasonal workers via ASTA distribution network and Viticulture Institute
An important part of Luxembourg's strategy to contain the COVID-19 pandemic is based on the widespread use of antigen self-tests (rapid tests). Employers who employ seasonal workers can have their harvest workers tested for COVID-19 for a maximum of 6 weeks free-of-charge with rapid tests twice a week after arriving in Luxembourg.
Interested companies can apply for the rapid tests for seasonal workers with the help of a form from the Administration des services techniques de l'agriculture (ASTA) or the Viticulture Institute (IVV) and pick them up at the agreed locations on working days by appointment.
Ideally, seasonal workers should have themselves tested for COVID-19 in their home countries in the days before departure. However, the cost of the tests in the countries of origin cannot be borne by the Luxembourg state.
For Romain Schneider, Luxembourg's Minister for Agriculture, Viticulture and Rural Development, it is important to have a reserve of 5,000 rapid tests available, which are quickly and efficiently distributed to all farms working with seasonal workers via the ASTA network and the Viticulture Institute to support the smooth running of the upcoming system-relevant seasonal work in viticulture, fruit growing, horticulture and agriculture.
Rapid tests for employees and customers of wine bars
Farm managers and their employees who have a Luxembourg identification number receive rapid tests for their own use via the national distribution centres, which are coordinated by the Ministry of Labour, Employment and the Social and Solidarity Economy.
Wine bars, as well as restaurants, cafes and pastry shops / tasting rooms, also receive rapid tests for their customers.
Fast and precise logistics thanks to good cooperation
Minister Schneider emphasised that all logistical levers are currently being set in motion in order to distribute the self-tests quickly and precisely. Thanks to the good cooperation with the Ministry of Health, the Viticulture Institute and the ASTA with regard to seasonal workers, as well as the national, area-wide distribution of rapid tests under the coordination of the Ministry of Labour, Employment and Social and Solidarity Economy to all permanent employees, all the prerequisites have been created to enable all seasonal work in viticulture, fruit and vegetable growing and agriculture to run smoothly this year, according to the Minister for Agriculture, Viticulture and Rural Development.
Information and quick test application forms for seasonal workers at https://agriculture.public.lu/de.html.