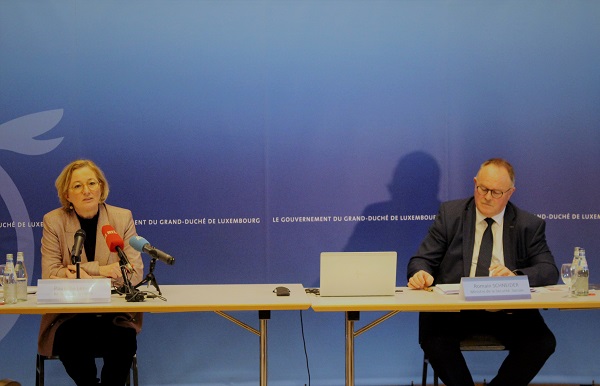 L-R: Paulette Lenert, Luxembourg's Minister of Health; Romain Schneider, Minister of Social Security; Credit: MSAN
During a press conference on Tuesday, Romain Schneider, Luxembourg's Minister of Social Security, and Paulette Lenert, Minister of Health and Minister Delegate for Social Security, presented the interim results of the first three working groups of the "Gesondheetsdësch" ("health table").
The objective of the "Gesondheetsdësch", launched in February 2020, is to define together with all players in the field a shared vision of the health system of tomorrow which takes into account existing challenges while remaining attractive to both patients and to healthcare providers. Collected ideas and interests of stakeholders will then contribute to the development of the national health plan.
The first three working groups selected thirteen projects aimed at meeting stakeholder expectations. These include: a review of professional responsibilities and the adaptation of respective training; the practice of medicine and health professions in societal forms; the creation of a unique digital register for health professions; the development of a vision on the patient pathways of the future; the promotion of health professions (a national action plan, including a promotional media campaign, concerning the medical and health professions covering the period 2020-35 will be drawn up); improved relations with protected persons; the implementation of immediate direct payment of CNS reimbursements.
On the point of improved patient pathways, Health Minister Paulette Lenert explained: "We are aiming for comprehensive care bringing together prevention, care and medico-social follow-up and we wish to improve the organisation of primary care [...], promote the shift towards ambulatory care and create extra-hospital outpatient facilities. But to succeed in the ambulatory shift, the modalities according to which medical procedures can be carried out in an extra-hospital environment will have to be defined because the quality of care and the continuity of care must be guaranteed".
Among the various points to be improved is, in a first step, the accelerated reimbursement and ultimately the immediate direct payment of care services not covered by CNS health insurance. Through direct payment, insured patients could directly pay their doctor rather than applying for reimbursement from the CNS. This system is expected to be operational from 2023.
The three remaining working groups will come together in March and April 2021.