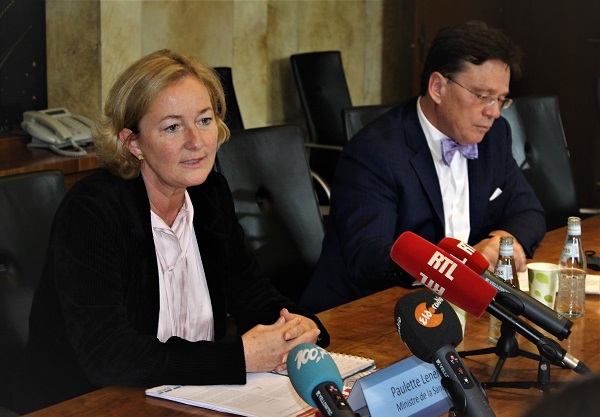 L-R: Health Minister Paulette Lenert; Dr Serge Allegrezza, Director of STATEC; Credit: MSAN
Luxembourg's Ministry of Health and STATEC have published in-depth COVID-19 figures for the week of 29 June to 5 July 2020.
There has been a clear upward trend in new positive COVID-19 cases as well as identified contacts (through contact tracing) since mid-June. This development accelerated further last week. During this period, 289 new infections were recorded, as well as 1,963 contacts.
The Health Ministry and STATEC have thus noted that the relaxation of certain restrictions on social life has resulted in an increase in the number of new infections.
Among those infected, it was mainly young adults who were affected, with an average age of 34.1 years. In addition, the proportion of symptomatic people was 62% for the week of 29 June.
As Luxembourg's Minister of Health Paulette Lenert stated: "Whilst the enormous solidarity of our citizens and their respect for health recommendations allowed us to manage the beginning of this crisis well, we must note today that for some, the end of the state of emergency is synonymous with the end of the crisis - when that is far from being the case!"
Private places remained the main origins of infection according to surveys by the Health Inspectorate of the Department of Health. A specific problem noted by the health authorities stems from certain situations of several people sharing a flat with a large number of cases as well as non-compliance with quarantine on the part of certain roommates. Several individual cases of new infections were also reported in different companies throughout the country.
In schools, there have been several sporadic cases, although these have been limited so far to two or three people in the same class. With the exception of one school (which experienced four cases), quarantine has made it possible to avoid the virus spreading further; not one infection actually took place on school grounds.
It should be noted that 166 of the 293 cases came from contacts (56%).
Launch of the first "Flash-COVID" in close collaboration with STATEC
The Ministry of Health, in collaboration with STATEC, will now regularly distribute two publications intended for the general public. On the one hand, Flash-COVID is a short report presenting some key indicators (eg the number of cumulative tests, people having tested positive, number of people hospitalised, etc.) and which addresses a particular subject related to COVID-19. The first edition will talk about advanced care centres. On the other hand, the Epidemiological Bulletin provides more detailed analyses. Examples of subjects covered are details on the profiles of infected persons and international comparisons, among other things. The two publications will appear alternately.
STATEC Director Dr Serge Allegrezza explained: "This pandemic has once again demonstrated the usefulness of health statistics and figures in health planning. It is an essential tool for making informed and informed political decisions".
A second confinement?
Regarding the prospects of a second confinement, the Ministry of Health and the Directorate of Health have assured that they are monitoring the situation very closely. As long as there is no medical treatment or vaccine against COVID-19, the authorities have stressed the need to follow basic health measures in order to limit the spread of the virus and maintain necessary hospital capacities. Consequently, the public is reminded to show responsibility, keep note of their contacts, facilitate tracing, respect physical distancing rules, wear a mask and participate in large-scale testing.