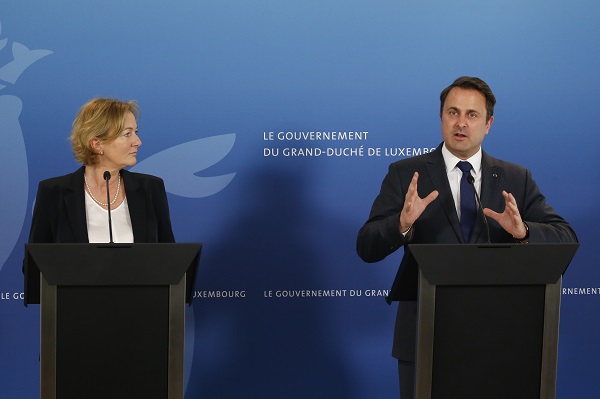 L-R: Paulette Lenert, Luxembourg's Minister of Health; Prime Minister Xavier Bettel; Credit: SIP / Julien Warnand
On Wednesday afternoon, Luxembourg's Prime Minister Xavier Bettel and Minister of Health Paulette Lenert provided an update on COVID-19 (coronavirus) in the Grand Duchy during a press briefing.
Prime Minister Xavier Bettel began by confirming that a total of 1,333 people have tested positive for coronavirus to date in Luxembourg. This represents an increase of 234 confirmed cases between Tuesday evening (1,099) and Wednesday afternoon. Xavier Bettel added that more people had been hospitalised and thus the government was reacting accordingly.
Paulette Lenert later confirmed that 143 people are currently in hospital with 21 in intensive care, including six patients transferred to Luxembourg from the Grand Est region in France; Minister Lenert added that the seventh patient was on their way to Luxembourg this afternoon.
Luxembourg's Prime Minister discussed the results of the exceptional Cabinet meeting held this morning on coronavirus developments. Stressing that the government would fight the spread of the virus whatever the cost, Xavier Bettel announced that the Cabinet had adopted a measure relating to the mobilisation of €9 billion to tackle the virus. The Prime Minister added that Luxembourg was in a privileged position in that it currently has a strong economy and that it will continue to support and strengthen businesses in the coming months and years in this context.
Xavier Bettel confirmed that the government had already received 4,600 postal requests and 3,700 email requests for financial assistance from companies. He added that this concerned 15,000 companies and more than 100,000 employees. In this context, €500 million per month has been set aside for partial unemployment, while a two-month budget of €400 million is available for family leave. Additional measures are scheduled to be voted on by the Cabinet in the next days.
The Prime Minister stressed that the state was doing the "absolute maximum" to tackle this situation and that public health and saving lives remains the number one priority. He concluded by thanking everyone who has been helping out and showing solidarity during these challenging times, namely healthcare and postal workers, the municipalities, people working in the food sector and those providing other essential services. He added that although most people are respecting the current restrictions, there are always exceptions; he thus stressed once again that it is "in everyone's interest to avoid social contact and to follow the rules".
For her part, Paulette Lenert turned her attention to current coronavirus figures in Luxembourg. She reiterated that the number of confirmed cases are so high in the Grand Duchy compared to other countries because of the large number of tests (around 10,000 to date) being carried out nationwide. Minister Lenert also provided an update on the new medical centres being opened, thanking the 75 people who are actively working to set these up (many on a voluntary basis). This is to be discussed in further detail a separate press briefing tomorrow.
Turning to the newly launched GovJobs platform, the Health Minister hailed this as a "great success", adding that a new category has been created for people with diverse skills and profiles. She recalled that the aim of the platform is not to oblige healthcare professionals to register but rather to create an up-to-date and organised listing of medical staff and other profiles with potentially useful skills.
On the subject of testing policies, Paulette Lenert recalled that these are being carried out at the same rate as before and in a targeted manner, i.e. with a focus on people showing symptoms and those at higher risk of complications resulting from the virus. She added that "preventive testing" on people without symptoms would not make sense, saying that this would be "the same as throwing a test away".
Concerning protective equipment and material, Minister Lenert confirmed that many orders had been made, although some deliveries have not yet arrived. In the meantime, priority is being given to those working in the healthcare sector and other professions working in direct contact with patients and vulnerable people. She added that the authorities bought and received four scanners for hospitals to help diagnose coronavirus. In the Q&A session that followed, the Health Minister also confirmed that there are currently around 130 beds in intensive care units in Luxembourg's hospitals.
More details are expected to follow at Thursday's press briefing.