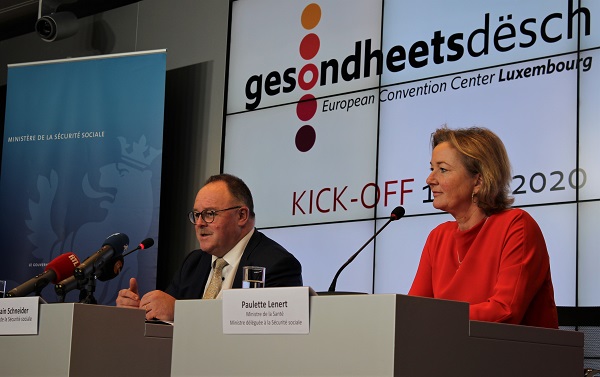 L-R: Romain Schneider, Minister of Social Security; Paulette Lenert, Minister of Health, Minister Delegate of Social Security; Credit: MSAN
On Friday 14 February 2020, Luxembourg's Minister of Social Security, Romain Schneider, and Minister of Health, Paulette Lenert, officially launched the "Gesondheetsdësch" ("health table"), together with the stakeholders behind this exchange aimed at addressing the future of the healthcare system.
This first meeting, born out of a desire to continue a constructive dialogue between the social partners, the Association des médecins et médecins-dentistes (AMMD), the Fédération Des Hôpitaux Luxembourgeois (FHL), the Ministry of Social Security and the Ministry of Health, guided the working groups which are open to all parties concerned and will be centered around five fundamental themes in matters of health and social security.
These themes are: "Towards a better complementarity between the hospital and extrahospital sectors"; "Improving relationships with protected persons and providers"; "Prevention in the health field"; "The use of new health technologies"; "Financing the health system".
On this occasion, Romain Schneider underlined that "this space of exchange makes it possible to deepen the matter and to propose tracks in the interest of the insured persons, while preserving the principles of social security".
Indeed, the objective of the "Gesondheetsdësch" is to define a shared vision of the healthcare system of tomorrow. More specifically, it aims to define measures intended to improve the efficiency of the healthcare system, taking into account the needs of the population, the development of medical techniques and the resources available to the country.
For Paulette Lenert, "the Gesondheetsdësch will be a participative and structured exchange around the challenges that our health system is facing today. We need to develop a common vision around the actions required to move our system forward and to make it attractive to patients and providers".
The ministers presented an ambitious work plan, a first assessment of which will be made before summer 2020.