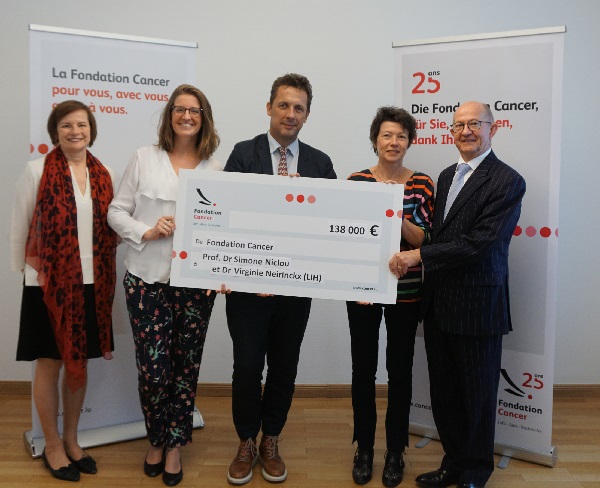 L-R: Lucienne Thommes, director of Fondation Cancer;Dr Virginie Neirinckx; Dr Ulf Nehrbass, director of LIH; Prof. Simone Niclou; Dr Carlo Bock, president of Fondation Cancer; Credit: Fondation Cancer
Fondation Cancer has presented a cheque for €138,000 to Simone Niclou and Virginie Neirinckx, researchers at the Luxembourg Institute of Health (LIH), for their cancer research project.
The project entitled "Soluble LRIG1 for Pan-Receptor Tyrosine Kinase Targeting in Glioblastoma" is studying a protein capable of inhibiting the growth of glioblastoma, a type of cancer. While recent years have witnessed the rise of many significant advances in the biological and molecular characterisation of glioblastoma, the need to establish new therapeutic approaches remains essential.
In this project, Dr. Niclou's team first focused on the molecule sLRIG1 (soluble Leucine-rich repeats and immunoglobulin-like domains 1), already demonstrated as a powerful tyrosine kinase receptor blocker. Their first work, published in 2013, showed that the application of sLRIG1 in a mouse model of glioblastoma can greatly reduce the growth of the tumour. The results obtained later have shown that the sLRIG1 protein does not target a receptor in isolation, but limits the activity of several receptors tyrosine kinase at a time. This is the first time that this "multi-target" activity of sLRIG1 is suggested, which is of significant importance in the context of therapeutic resistance.
Thanks to the funding provided by the Fondation Cancer, the continuation of this project will deepen knowledge about sLRIG1 and its mechanism of action, with the ultimate goal of generating a therapeutic molecule derived from sLRIG1 that can be tested and applied to patients in a clinical context.