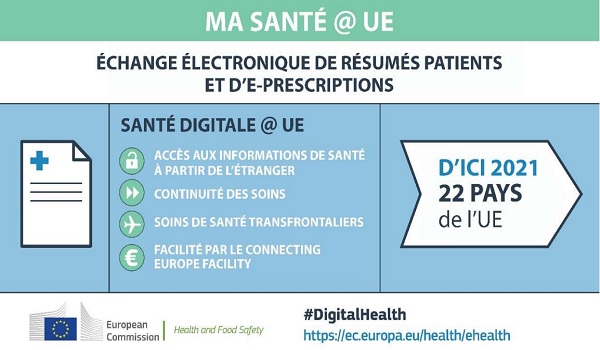 Credit: eSanté Luxembourg / European Commission
Friday marked the launch of the EU's first cross-border eHealth service in Luxembourg: eSanté, the electronic exchange of patient summaries between European countries.
Luxembourg, together with the Czech Republic, is currently profiling a pioneering country that can initiate the cross-border exchange of patient summaries within Europe under the European CEF Connecting Europe Facility (CEF) programme, eHealth Digital Services Infrastructure (eHDSI), CEF eHDSI.
More concretely for Luxembourg, this means that, from now on, a European patient who consults a doctor during their stay in Luxembourg, can benefit from this service and request that their patient summary be shared. In a first moment, the electronic transfer of the patient summary can be provided for patients from the Czech Republic. From July, the service will also include patients coming from Portugal and Malta, after which the service will gradually extend to the citizens of other Member States participating in the CEF eHDSI programme.
This first cross-border eHealth service is part of the gradual launch of the electronic exchange of two types of document, patient summaries and e-prescriptions, within Europe, facilitated by the CEF eHDSI which links the National Contact Points for e-Health (NCPeH) of participating Member States. For Luxembourg, it is the Agence eSanté that assumes this role of a highly secure technical portal responsible for operating these NCPeH exchanges.
The cross-border electronic exchange of patient summaries and e-prescriptions will be gradually put into operation in the following 22 European Member States: Finland, Estonia, Czech Republic, Luxembourg, Portugal, Croatia, Malta, Cyprus, Greece, Belgium, Sweden, Austria, Italy, Hungary, Ireland, Poland, Germany, France, Spain, Slovenia, Lithuania and the Netherlands.
Finland and Estonia are the pilot countries that launched in January 2019 the cross-border electronic exchange of e-prescription and e-dispensing. Between the launch date of 21 January 2019 and 5 June 2019, more than 4,700 e-prescriptions and over 2,100 e-dispensations have been exchanged between the two countries. Since the beginning of this week, Croatia has joined this core of countries operating the exchange of e-prescription.
As a result, Luxembourg is now making the electronic transfer of patient summaries relating to foreign patients to doctors in the Grand Duchy. From 2020, the Agence eSanté will put in operation two additional use cases: sending the patient summary of an insured Luxembourg national to a doctor consulted abroad and sending an e-prescription (prescribed by a doctor in Luxembourg) to a pharmacy in another European country.
The implementation of a cross-border electronic patient summary and eprescription exchange aims to contribute to better patient management and to facilitate the continuity of safe and quality care across borders.