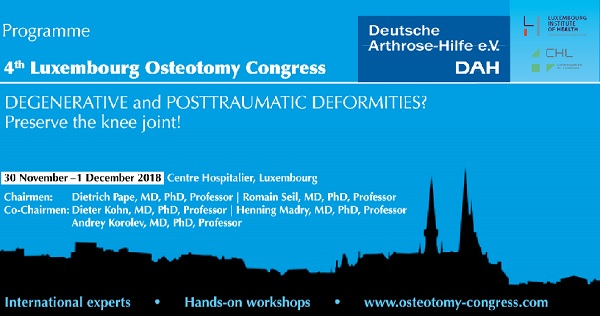 The 4th Luxembourg Osteotomy Congress is to be held in Luxembourg on 31 November and 1 December 2018 at the Amphitheatre of the Centre Hospital of Luxembourg (rue Barblé), organised by the CHL Orthopedic Surgery Department and the Luxembourg Institute of Health's Sports Medicine Research Laboratory (LIH).
In Luxembourg, as in neighbouring countries, sport, accidents at work and on public roads causing irreversible knee injuries, are numerous. In 2014, more than 2,900 cases of knee trauma were recorded in the emergency departments of 3 large Luxembourg hospitals, or about 8 cases per day. Although some of them are minor, severe trauma can leave painful after-effects, which will be frequently associated with the abandonment of sports and / or professional activities. Many patients will need surgery at some point in their lives to maintain or restore their physical or work capacity.
Among possible surgeries, osteotomy is one of the main weapons of the surgeon to fight against osteoarthritis of the knee and allow the patient to regain their activities. This technique has the advantage of preserving the patient's original articulation and has proved to be very useful in young and active patients. It is estimated that in about one out of three patients who have had a knee prosthesis, osteotomy would have prevented or postponed the prosthesis.
Osteotomy was almost obsolete in the 1980s to 1990s because of their high rate of complications and the advent of knee prostheses. The development of new implants has allowed a real renaissance of this surgical technique, allowing surgeons to have improved results and greater patient safety. In recent years, the doctors and scientists of the CHL and the LIH have made a significant contribution to this development, which benefits around 50 patients per year at the CHL.
More than 180 internationally renowned surgeons and researchers from 35 different countries (including countries as far away as Thailand, South Korea, Saudi Arabia, Ghana, Russia, Canada and the US) will meet during 2 days at the CHL to discuss the state-of-the-art in this area. The congress will address both experienced surgeons and beginners. The presentations will be provided by international experts and practical workshops will be organised.
Osteotomy: what is it?
A knee osteotomy can correct the axis of the lower limb in case of osteoarthritis (wear of the joint) affecting only part of the knee. This is a surgical procedure that does not affect the joint itself. It is performed on the bottom of the femur or the upper tibia and allows - as opposed to prostheses - to preserve the joint. Realigning the axis of the leg is intended to reduce the loads on the worn part of the knee to improve the patient's daily life and to avoid or delay the implantation of a prosthesis.