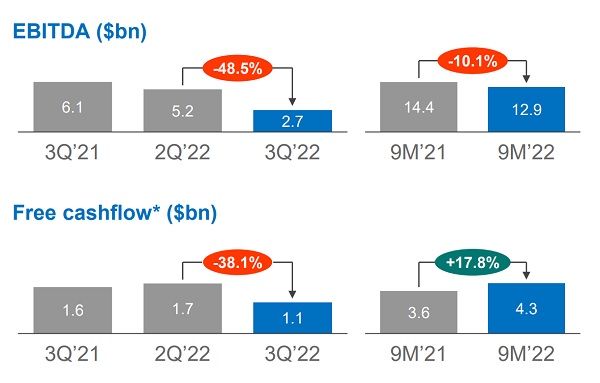 Q3 2022 results; Credit: ArcelorMittal
Luxembourg-headquartered steel manufacturer ArcelorMittal has announced its results for the third quarter (Q3) of 2022.
At just under $1 billion in Q3 2022, ArcelorMittal's net income was down by 74% compared to Q2 2022 ($3.9 billion) and down by 78% compared to Q3 2021 ($4.6 billion).
Moreover, the company's earnings before taxes (EBITDA) stood at $2.7 billion in Q3 2022, down from $5.2 billion in Q2 2022 (-48%) and from $6.0 billion in Q3 2022 (-55%).
Operating income amounted to $1.7 billion in Q3 2022, a 62% decrease compared to Q2 2022 ($4.5 billion) and a 68% decrease compared to Q3 2022 ($5.3 billion).
Nevertheless, after the first nine months of the year, ArcelorMittal posted a net debt of $3.9 billion as compared to $4.2 billion at the end of June 2022 and $4.0 billion at the end of December 2021. Gross debt stood at $9.0 billion at the end of September 2022.
Commenting on these results, Aditya Mittal, ArcelorMittal Chief Executive Officer (CEO), said: "The strong market conditions enjoyed for much of the past two years deteriorated in the third quarter as seasonally lower shipments, a reduction in exceptional price levels, destocking and higher energy costs combined to put profits under pressure. The business responded quickly to the changing environment, cutting higher cost capacity to manage addressable demand and reduce fixed costs, and reducing European gas consumption by 30%".
"The group's decarbonisation goals remain a central part of the strategy, with a key development being the ground breaking last month in Ontario, Canada, for a new DRI-EAF plant, which is hydrogen ready", he continued. "With COP27 underway we hope for progress on measures that can accelerate the road to net zero, including the scaling up of renewable energy, critical for both the decarbonisation of steel and enhanced energy security".
Mr Mittal concluded: "The short-term outlook for the industry remains uncertain and caution is appropriate. But, ArcelorMittal has the strength, resilience and experience to face the future with confidence. Supported by a strong balance sheet, we will continue to focus on executing our strategy, designed to ensure our long-term sector leadership, as well as deliver sustainable investor returns".
The full report is available at: https://corporate.arcelormittal.com/media/press-releases/arcelormittal-reports-third-quarter-2022-results.