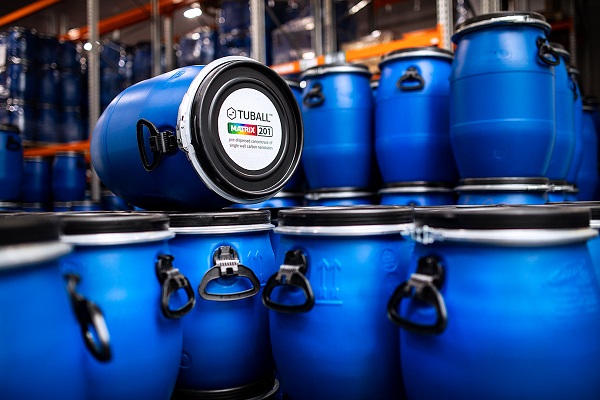 TUBALL MATRIX barrels; Credit: OCSiAL
OCSiAl, the world's largest manufacturer of graphene nanotubes based in Luxembourg, has announced that it is now the largest supplier of single wall carbon nanotubes in Europe through its upgraded REACH registration.
OCSiAl has become the sole company in Europe authorised to commercialise up to 100 tonnes of single wall carbon nanotubes, also known as graphene nanotubes, thanks to the company's upgraded dossier under the EU's "Registration, Evaluation, Authorisation and Restriction of Chemicals" (REACH) legislation. This step allows the company to boost its presence in the region and to meet the growing market demand for industrial volumes of graphene nanotubes. The company's current portfolio includes over 1,600 customers worldwide, with China and Europe as the two most rapidly expanding markets for nanotube applications in transportation, electronics, construction, infrastructure, renewable energy, power sources, sports equipment, 3D-printing, textiles, sensors and more.
OCSiAl plays a leading role in improving the accessibility of information on the nature of graphene nanotubes and in forming the principles of their safe handling – the company has so far initiated sixteen studies in these fields, including those required by the revised REACH annex. TUBALL nanotubes reportedly demonstrate no skin irritation, corrosion or sensitisation, no mutagenic effect and no adverse effect on reproductive toxicity. In addition, ecotoxicity studies have shown no toxic effect on Daphnia or algae.
OCSiAl continues to accelerate the acceptance of this unique material in various markets by supplying high-quality nanotubes at an economically feasible price and in industrial volumes. TUBALL is regulated by the Environmental Protection Agency (EPA) in the US, where it is also allowed to be commercialised in industrial volumes. The company's near-term plans include scaling-up the permitted volume of industrial commercialization of graphene nanotubes in Australia and Canada.
OCSiAl has expanded its existing portfolio of more than 30 distributors operating in 45 countries. The company has entered a partnership with Azelis, a leading distributor of specialty chemicals and food ingredients, to strengthen its market position and extensive knowledge in several industries, specifically CASE (coatings, adhesives, sealants, elastomers), R&PA (Rubber & Plastic Additives) and the building industry. Azelis will distribute OCSiAl's high-end TUBALL™ range in France and the UK. The manufacturer has also signed a distributor agreement with Dalian Liansheng Trading, located in Changzhou, Mainland China, for a line of industry-friendly TUBALL nanotube concentrates for composites, coatings and adhesives to expand its activities in the region.
The company plans to launch the first train of the world's largest graphene nanotube synthesis facility and a center for applied nanotechnology in 2023 in Differdange. The project will create up to 200 jobs for highly qualified scientists and engineers.