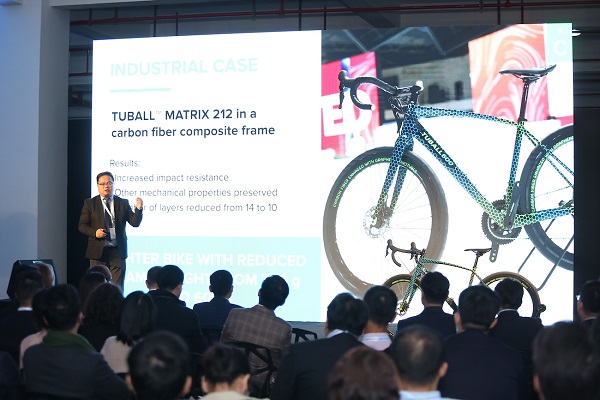 Opening of TUBALL Center Shanghai; Credit: OCSiAl
OCSiAl, a global nanotechnology company headquartered in Luxembourg, today announced the opening of its second technical support centre after Novosibirsk (Russia), this time in Shanghai, China.
The opening of the new "TUBALL Center" Shanghai marks another step in OCSiAl's plans to expand its global activities and is aimed at offering further improvements in the company's technical support for its Asian customers and to the development of innovative products such as a nanotube concentrate for lightweight sports equipment including bicycle rims and frames, helmets, baseball bats and hockey and tennis rackets, as well as gas cylinders with greatly improved impact resistance. Some of these products have already been launched on the market.
The new Chinese centre has twelve laboratories for developing nanotube technologies in batteries, plastics, coatings, composites and elastomers and for performing rigorous product quality control. The 150 units of equipment are designed to help OCSiAl provide its local customers with an even faster response and tailored technical support as well as to develop customised solutions.
The December opening ceremony attracted almost 200 experts from various industries that use or test TUBALL nanotubes, including CATL, BYK Additives, Daikin Industries, Elkem Silicones, Kusumoto Chemicals and Lishen.
Dechun Fu, Managing Director of BYK Greater China, commented: "The launch of TUBALL CENTER Shanghai shows that OCSiAl shareholders have full trust in the Chinese market. OCSiAl products can provide our customers with immeasurable added value. In many critical application fields, BYK has already worked closely with OCSiAl and has achieved a number of successful results, and we hope to continue to work together to develop a wider range of nanotube applications".
Thanks to their unique properties, graphene nanotubes are frequently called a "wonder material" and, when introduced into standard materials, they can create new materials with unprecedented properties. Their recent rapid transformation from laboratory to industry material has been possible thanks to OCSiAl's first-ever mass-production technology for the synthesis of high-quality graphene nanotubes and to the company's development of a wide product line of nanotube concentrates that enable handling of nanomaterials at standard industrial production sites.
"Here in the TUBALL CENTER Shanghai we have recently locally developed a totally new product for reinforcing composites. This is a real game-changing product for a number of consumer goods," said Jason Wang, OCSiAl China Composites Technical Support Engineer.
In addition, as OCSiAl rapidly increases its production capacity, the company has announced plans to launch the first train of the world's largest graphene nanotube synthesis plant and a centre for applied nanotechnology in Differdange in south-western Luxembourg in 2023. The project is set to create up to 200 jobs for highly qualified scientists and engineers.