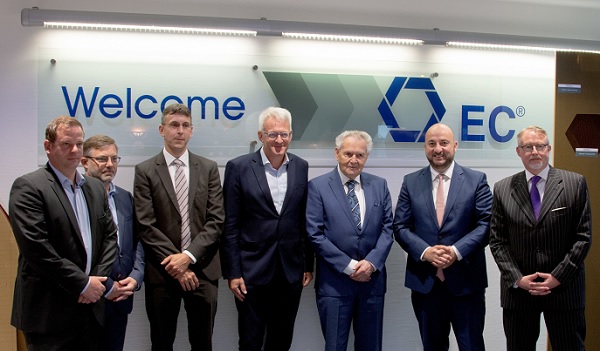 (L-R): Ben Scheuer, Ville d'Echternach; Luc Birgen, Ville d'Echternach; Yves Wengler, Mayor of Echternach; Rolf Mathias Alter, President & CEO, Euro-Composites; Minister Étienne Schneider; Patrick Nickels, President of SNCI; Credit: Euro-Composites
On Wednesday 12 June 2019, an agreement was reached concerning the development of Euro-Composites at its Echternach site and was signed between the company, the Luxembourg government, the City of Echternach and the National Credit and Investment Company (SNCI).
This agreement is dedicated to the future development of Euro-Composites in Luxembourg and provides in particular for investments of €160 million by the company for the extension of its production and administrative buildings as well as the acquisition of new equipment as it expects to peak over the 2020-2030 period. These investments will lead to the creation of at least 100 jobs and are part of the company's sustainable development strategy in the Grand Duchy since 1984.
The agreement between the parties confirms, on the one hand, the long-term confidence of Euro-Composites leaders in Luxembourg as the site of choice for an innovative and technologically advanced industry and, on the other hand, it affirms the support of public bodies to the continuous development of a leading industry. Strongly focused on research and innovation, the company pursues its policy of continuous investment to remain a leader in competitive markets such as aviation and space. In 2018, the Euro-Composites Group achieved a turnover of €179 million and currently employs 850 people in Luxembourg and nearly 1,100 worldwide.
Luxembourg's Deputy Prime Minister and Minister of the Economy, Étienne Schneider, underlined "I welcome the regular and constructive exchanges between the Ministry of the Economy and Euro-Composites and the continuous investments made in Luxembourg by this important industrial player for continue to innovate and remain competitive. Euro-Composites activities in the space sector also show that space exploration and the use of space resources attract start-ups on the one hand, but also a growing opportunity for established industrial companies who master advanced technologies."
Rolf Mathias Alter, President, CEO and owner of Euro-Composites, welcomed the support provided by the Luxembourg authorities for the continued development of Euro-Composites and underlined the pioneering role of innovative industrial companies such as Euro-Composites in research and development and their willingness to contribute actively to the country's sustainable economic development.