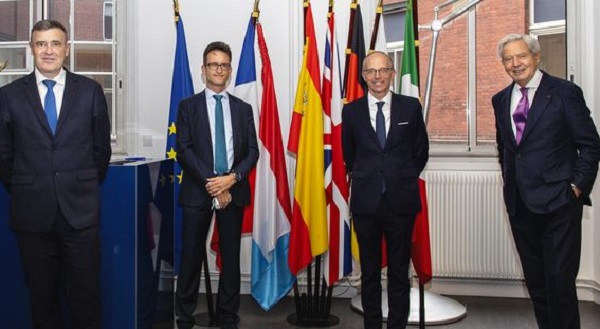 L-R: Frank Bournois, Dean of ESCP Business School; Luc Frieden, President of Luxembourg Chamber of Commerce; Carlo Thelen, Director General of Chamber of Commerce; Philippe Houzé, Chairman of the Board of Directors of ESCP; Credit: Chambre de Commerce
On Monday 28 September 2020, Luxembourg's Chamber of Commerce signed a partnership agreement with ESCP Business School.
The objective of this new collaboration is to jointly develop and offer continuing professional training programmes that meet the needs of businesses, adapted to the specificities of the Luxembourg market, in order to support the development of business skills.
For the Chamber of Commerce, the partnership with ESCP Business School, one of the world's best business schools, is of great importance for the positive prospects it brings in these times of economic slowdown and pandemic and higher than usual unemployment.
ESCP Business School provides a full range of training courses as well as a proven system for co-constructing tailor-made training solutions, corresponding to the specific needs of the Luxembourg economy. This translates, for example, into the possibility of individually adapting certain existing training courses to better meet the requirements of the field or the opportunity to offer ESCP Business School-stamped certificates dedicated in particular to the digital sector. The dual seal of ESCP Business School and Luxembourg Chamber of Commerce is considered an added value to training and an opportunity for better employability.
In his speech, Luc Frieden, President of the Chamber of Commerce, recalled how much the Chamber was grateful to ESCP Business School for this partnership: "To overcome the crisis, we need courage but also skills. And these skills can be acquired through academic programs but also through continuing professional training".
The signing of the partnership took place ahead of a ceremony during which Pierre Gramegna, Luxembourg's Minister of Finance, was awarded the honorary degree of Doctor honoris causa on the ESCP Business School's Paris campus.
A first initiative resulting from this cooperation between the Chamber of Commerce and ESCP Business School is the organisation in Luxembourg of part of the course of an Executive Master in "Gestion Internationale de Patrimoine" (international wealth management), which combines the academic and educational expertise of ESCP Business School with the Chamber of Commerce's network and knowledge of the Luxembourg economic environment.