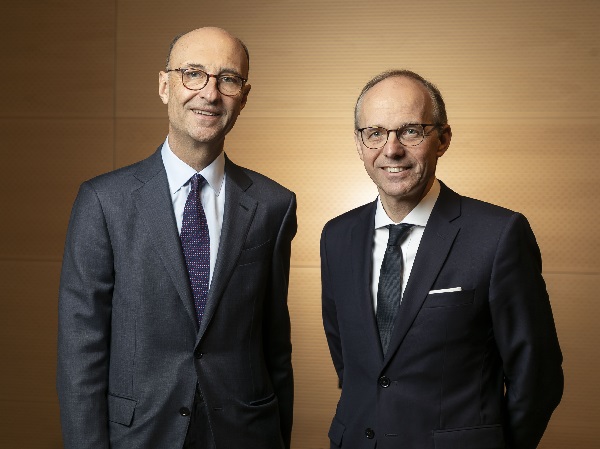 Former Chamber president Michel Wurth with new president Luc Frieden; Credit: Luxembourg Chamber of Commerce
The Luxembourg Chamber of Commerce held its Constituent Plenary Assembly on Wednesday, with Deputy Prime Minister and Minister of the Economy Etienne Schneider acting as presiding minister and officially presenting the results of the 2019 elections.
The Plenary Assembly is the highest decision-making body of the Chamber of Commerce, representing more than 90,000 business members, and is in charge of the internal structure of the largest professional organisation in the country, approving the budget and determining the strategic action plan. The Plenary Assembly reflects all of Luxembourg's economic sectors, except crafts and the agricultural sector. The six electoral groups represented by the Plenary Assembly have a total of 25 regular elected members and the same number of substitutes.
The presiding minister presented the election results as published by ministerial order on 1 March 2019 appointing the newly elected active and substitute members of the Chamber of Commerce for a mandate of five years. The elected members of the Plenary Assembly unanimously accepted the proposal of Group 4 (banks, agricultural credit cooperatives and other financial activities) to nominate Luc Frieden as President of the Chamber of Commerce. Following the proposal of the president, the Plenary Assembly elected three vice presidents: Fernand Ernster, Valérie Massin and Alain Rix, thus, together with the president, creating the bureau.
The new president thanked the elected members for their trust and assured them of his dedication in defending the interests of the members of the Chamber of Commerce and promoting the socio-economic development of the country. He also underlined the remarkable work done by his predecessor, Michel Wurth, who was able to position the Luxembourg Chamber of Commerce as a key player in the socio-economic life of Luxembourg during his three consecutive terms, with the support of outgoing elected members, management and staff. In conclusion, Luc Frieden thanked the outgoing elected members for their past commitment and invited the newly elected members to actively participate in the life and work of the Chamber of Commerce.
Following the Constituent Plenary Assembly, the elected members met the employees of the Chamber of Commerce and members of the press.