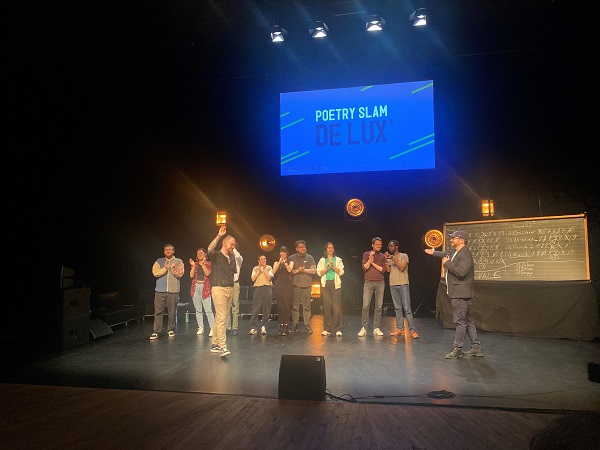 Poetry Slam de Lux 2023;
The thirteenth edition of the Poetry Slam de Lux took place last weekend in the Rotondes in Luxembourg-Bonnevoie and in the Brandbau in Wiltz at the initiative of the Pierre Werner institute, with Tanguy R. Bitariho and Fabian Navarro announced the winners.
Four Luxembourg slam poets from the Géisskan Collective met five slam poets from Germany, Belgium, Austria, Switzerland and France. Tanguy Bitariho (France) and Fabian Navarro (Germany) shared the win on Friday at the Rotondes in Luxembourg City. On Saturday 1 April 2023 in Wiltz, the crowd chose Tanguy after a tight competition between the two.
The current Luxembourg champion Nicolas Calmes (in 2021) competed alongside the Luxembourger Cosimo Suglia and Luxembourg Bad Taste Slam winner Suna Bonnet and Camal Tahireddine. In two preliminary rounds, they measured themselves against the Belgian champion Gaélane, Austrian Vice State Champion Isabella Scholda, the former German-speaking Vice champion Fabian Navarro as well as the French Tanguy R. Bitariho and the Swiss Helena Brehm. The slam poets each had six minutes to convince the audience with their text and performance. On Friday the public jury chose Tanguy R. Bitariho, Helena Brehm and Fabian Navarro to the final round. Audience applause decided the winner in the last round.
Tanguy Bitariho won over his audience with his verses inspired by his work in psychiatric hospitals and his poetic appeals against injustice and for a new image of masculinity.
Fabian Navarro also wowed the audience with his both thoughtful and humorous text about loneliness and dating portals. Both received the same amount of applause and were thus declared winners.
On Saturday, both Tanguy Bitariho and Fabian Navarro made it to the final again. Helena Brehm and Gaélane participated in the final round as well. Here, too, the audience had to applaud several times to bring about a decision. In the end, the moderators Bob Reinert and Philippe Schockweiler, both from the Géisskan collective, chose Tanguy R. Bitariho as the winner.
The Pierre Werner institute organised this event in collaboration with the Rotondes, Coopérations Wiltz, Géisskan collective, the Austrian embassy, the Swiss embassy, the Belgian embassy and Wallonia-Bruxelles international. It was moderated by Bob Reinert and Philippe Schockweiler from the Géisskan collective. The Luxembour-based participants included Suna Bonnet, Nicolas Calmes, Cosimo Suglio and Camal Tahireddine. Tanguy R. Bitariho represented France, Gaélane represented Belgium, fabian Navarro Germany, Isabella Scholda Austria and Helena Brehm Switzerland.