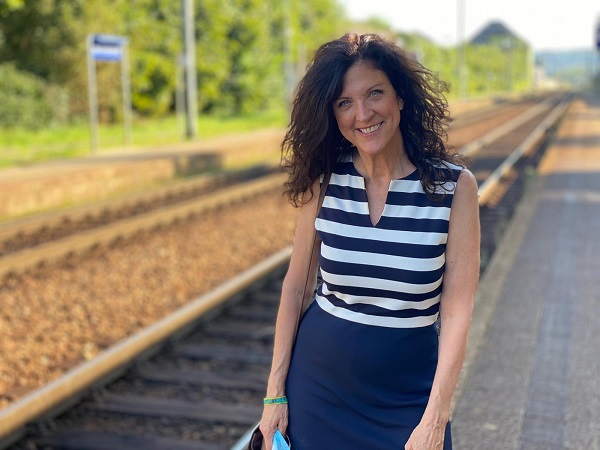 Credit: Wendy Winn
Chronicle.lu recently got the opportunity to catch up with Wendy Winn, an American-Luxembourgish poet, writer, journalist, radio host and artist, and ask her about her first poetry collection "Train of Thought".
Chronicle.lu: What was your inspiration for the title "Train of Thought"?
Wendy Winn: I liked the double meaning. The poems reflect my train of thought and they were all written on or inspired by train commutes. There are similarities between trains of thoughts and actual trains – we often seem to take them out of habit and don't like where they are taking us, and we forget that we have some choice in the matter. In the case of our thoughts, we have almost complete control actually.
Chronicle.lu: When did the idea of putting together this particular poetry collection come to you?
Wendy Winn: I didn't set off to make a collection about train commutes, I just started to write the poems on the train and a collection began to take shape after a few months. I have had other poems published, here and in the US, but never a whole collection, and it wasn't until I had about 20 "train poems" that I thought about putting them together as a book. I was a little afraid that just writing about trains would become forced, but I never had to search for train poems, they always found me.
Chronicle.lu: What was the writing process like?
Wendy Winn: The writing process starts with the thinking process, and in my case, I think I am a lot like someone Kurt Vonnegut describes in [his novel] "Cat's Cradle". The character Dr. Hoenikker is actually a Nobel Prize winning scientist who neglects his kids and endangers the entire planet, so hopefully we are only alike in the way we get ideas, which he describes in a speech. "Ladies and Gentlemen", he said. "I stand before you now because I never stopped dawdling like an eight-year-old on a spring morning on his way to school. Anything can make me stop and look and wonder, and sometimes learn. I am a very happy man. Thank you". When I read that, I thought yes, that's me! I am an 8-year-old child who never stopped dawdling on my way to school. That's exactly what I do.
The ideas for Train of Thought came just by dawdling and observing. I wrote the bones of the poems on my phone and I fleshed them out when I got to the office, before I started work. When the poems first come to me, I don't edit very much as I go. That would be like continually correcting someone who is trying to speak to you in English when it's not their native tongue – you might make them stop talking to you. I do pay a lot of attention to rhythm and to the sound of the words, even if most of my poems are in free verse. For me, a really good poem speaks to the mind, the heart and the ear.
I feel an urgency to share a poem when I'm done, and usually find a willing victim, but I don't write with the intention of publishing. That said, not sharing with anyone can feel like cooking a beautiful dinner or baking a cake just for yourself. It feels nicer to share.
Chronicle.lu: How many other people were involved in the process?
Wendy Winn: I shared the poems with fellow writers, family and friends and got their feedback and encouragement. When the collection was done, I asked Sara Montebrusco to be my translator, because I had translated her mother's book, "Igor the Cat", from French into English. We had a connection. The French version is included in the book, and I think Sara did a fabulous job. For the layout and final revisions, I have to thank Tammy at Reka Print.
Chronicle.lu: Please tell us a bit more about your passion for poetry, writing in general, and, of course, travelling by train. What sparked these passions?
Wendy Winn: I think reading sparks a love for writing. I had a lot of early exposure – my father read stories to me as a child in a very animated way, sometimes changing the plot to provoke and entertain me, and my mother is a voracious reader and a published author.
I studied literature and got my masters in creative writing – I had some wonderful teachers, one of whom I'm still in touch with. And I have managed to support myself one way or another though my writing all my life, primarily as a journalist, but I've also been writing poems and fiction all the while too.
As for trains, I'm still in the honeymoon phase. I was nearly 30 before I ever rode one, and taking the train still feels new after all these years. But I think trains are romantic even to seasoned commuters. You just hop on, and you're transported elsewhere, with the option of stepping off whenever you feel like it.
Chronicle.lu: What's next for you as a writer?
Wendy Winn: I have several other poetry collections in the works, in addition to the random things I write all the time. Last year, I wrote a YA [young adult] novel and want to write the sequel, and I'm writing some other children's books and short stories too.
I will definitely keep reading and participating in writing groups and events. Writing isn't just about output, you have to have input too – you have to expose yourself to things that inspire you.
Last July, I took part in the Southampton Writers' Conference and I still meet once a month online with the poets I met there. And I meet online weekly with local writers through the Writers Who Talk asbl.
The local group hosts workshops and events as well, and I sign up for everything they offer. This month, on 24 [February], the creator of Luxembourg Wurst will be giving a workshop on satire, and on 8 May, I'll be leading a poetry workshop, at the Immigration Festival called "How to Catch and Pin down a Poem". I'm really looking forward to that.
Train of Thought is availabel from Ernster and Alinea bookstores in Luxembourg City, as well as at the Belle Etoile, Concorde and Cloche d'Or shopping centres, at Quaichleker Bichereck in Echternach, at Librarie Diderich in Esch-sur-Alzette and at the Jacques Schnieder Concept Store in Cloche d'Or. The 84-page book may also be ordered directly from Wendy Winn, who will send it out via post – contact Ms Winn through the Train of Thought Facebook page: https://www.facebook.com/wendycolleenwinn or via email: wendywinn@gmail.com.