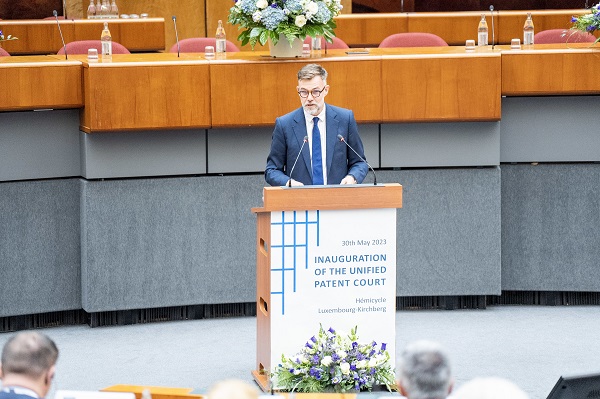 Franz Fayot, Luxembourg's Minister of the Economy; Credit: ME
Tuesday 30 May 2023 marked the inauguration of the Unified Patent Court in the Hémicycle in Luxembourg-Kirchberg, with the participation of many European political figures, including Luxembourg's Prime Minister Xavier Bettel, Luxembourg's Minister of the Economy, Franz Fayot, and the German Minister of Justice, Marco Buschmann.
Described by Luxembourg's authorities as "a true cross-border patent jurisdiction", the Unified Patent Court is supported by 24 of the 27 EU Member States and has been ratified by seventeen Member States so far. It is destined to become a key player in the European patent system. The headquarters of the Court of Appeal and the Registry of the Unified Patent Court is located at 1 Rue du Fort Thüngen, L-1499 Luxembourg, in the immediate vicinity of the Court of Justice of the European Union (CJEU) and the European Public Prosecutor's Office (EPPO); the headquarters of the Court of First Instance and the Central Division are located in Paris, France.
With the entry into force of the European Unitary Patent system on Thursday 1 June 2023, the creation of the Unified Patent Court, with its Court of Appeal and its Registry, has become essential, according to Luxembourg's Ministry of the Economy, the Ministry of State and the Ministry of Foreign and European Affairs. The Unified Patent Court will have exclusive competence over unitary patents, which will offer uniform protection and equivalent effects in the current seventeen Member States, while being centrally managed by the European Patent Office (EPO). Separate national validations of the European patent will no longer be necessary.
Luxembourg Economy Minister Franz Fayot, whose ministerial portfolio includes intellectual property, underlined in his speech at the inauguration the importance of the entry into force of the unitary patent as a key moment for the protection of intellectual property in Europe and a major achievement in building a genuine single European market.