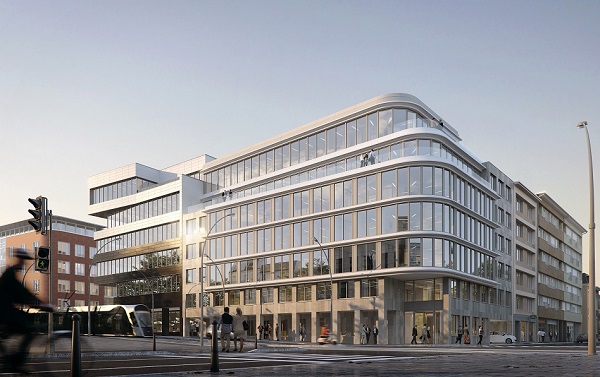 Credit: DLA Piper/JLL
Global law firm DLA Piper has signed a lease agreement which will see its Luxembourg team relocate to the Nova building later this year; the move is planned for the end of 2023.
According to DLA Piper, the move from Luxembourg-Kirchberg to the 4,000 m2 Nova building in Place de l'Etoile in Luxembourg's city centre is not only part of the firm's growth but also of its commitment to shaping the workplace for its people, providing flexible and modern working options and a more sustainable environment.
The updated building has been recognised as "very good" by BREEAM, the world standard for sustainability credentials.
The firm, with over 90 offices worldwide, confirmed its focus on reducing its energy consumption and carbon footprint, having signed a corporate Power Purchase Agreement.
The Nova building, owned by Monceau Assurances, has been completely redeveloped and is being modernised. The building now includes a rear extension, an additional floor and a complete renovation of the façade.
The tenant representation department of JLL Luxembourg advised DLA Piper in this project.
"The prospect of moving into this brand new, fantastically located and amazingly equipped building is very exciting," commented Catherine Pogorzelski, Country Managing Partner of DLA Piper Luxembourg. "This investment reflects both the strength of our client base and our faith in Luxembourg's continued role as a major financial and commercial hub."
Emna Rekik, Head of Tenant Representation & Corporate Accounts JLL Luxembourg, added: "Our collaboration with DLA Piper was based on trust, teamwork, communication and collaboration, just like the ambitions for these new offices. We are proud to have been able to assist DLA Piper throughout this journey."