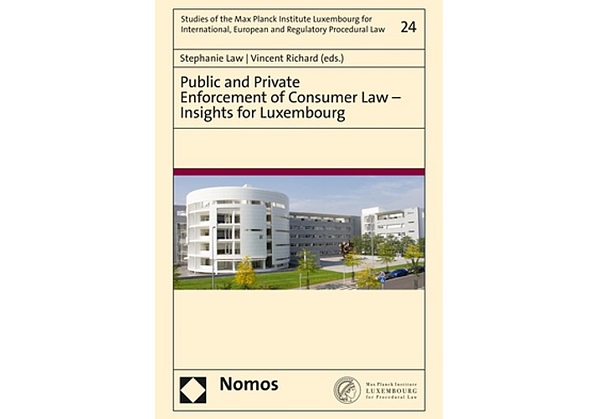 Credit: MPI Luxembourg
The Max Planck Institute (MPI) Luxembourg has announced the publication of its new book on consumer law; the book launch will be held online on Monday 4 October 2021, from 11:30 to 12:30, in the presence of Luxembourg's Minister for Consumer Protection, Paulette Lenert.
The book publication follows the institute's "­Study on the Enforcement of European Union Consumer Law for the Luxembourg Ministry for Consumer Protection".
The coordinated enforcement of consumer protection has become a top priority in Europe. In 2019, the European Union (EU) adopted a directive on the better enforcement and modernisation of EU consumer protection law. By November 2021, EU Member States shall revise and modernise their national laws on the public and private enforcement of EU consumer protection. New legislation in this area is also due in Luxembourg.
Already in 2019, Luxembourg's Ministry for Consumer Protection asked the MPI Luxembourg for Procedural Law to conduct a comparative study on the private and public enforcement of EU consumer law in different Member States, especially the neighbour States of the Grand Duchy. Researchers of the institute elaborated a Study covering France, Belgium, Estonia, England and Wales (pre-Brexit), Luxembourg and Germany. In December 2019, they presented the first results and discussed them with national stakeholders and international experts during a conference coorganised by the Ministry and the institute at Senningen Castle. The results of the study are now available as a book. The 500-page publication encompasses six national reports and a general assessment.
On 4 October 2021, the principal authors and editors of the publication, Dr Stephanie Law and Dr Vincent Richard, will present the main findings of the study during the official book launch. The event will be organised as a webinar, in the presence of Minister Paulette Lenert and Professor Burkhard Hess, Director of the MPI Luxembourg.
­To receive the link for the event, register by Thursday 30 September 2021 at https://bit.ly/3u4W7gP. Participation is free of charge.