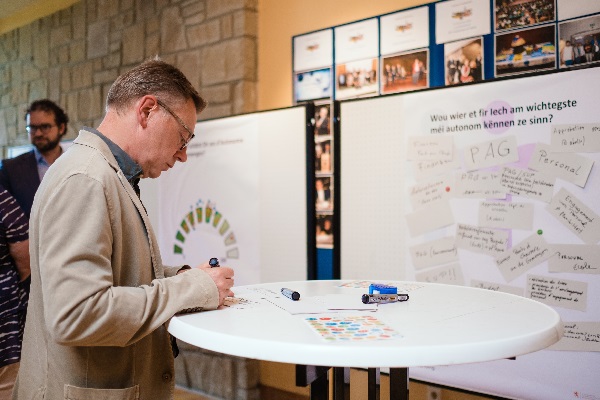 Launch of the participatory process for the reform of the municipal law; Credit: Ministry of the Interior
The reform of the municipal law in Luxembourg began today, Tuesday 9 July 2019.
300 representatives of the municipal sector responded to the invitation of Luxembourg's Minister of the Interior, Taina Bofferding, to attend the event launching a participatory process for the reform of the municipal law, which took place yesterday. On this occasion, the guests had the opportunity to participate in interactive panels.
The reform process will go beyond traditional regional consultations and will involve local elected officials, municipal sector officials, members of advisory committees and citizens. Participation will be in three phases, the first of which begins in October 2019 and which aims to determine and discuss the theme of the reform of the municipal law. The general public will be able to get involved through an online consultation, followed by a symposium.
During a second phase and based on the results of targeted seminars and thematic workshops, proposals and solutions will be developed until July 2020. After the first two stages, draft legislation will be drawn up, the outline of which will be submitted for public opinion.
Since this reform will take some time, it will begin with the reform of the administrative control of the communes. This will involve a modernising reform concept, the basic principles of which will be mainly the responsibility of Syvicol. The introduction of a bill is expected before the end of the year.
The Luxembourg municipalities and the socio-economic environment in which they operate have changed profoundly in the thirty years since the entry into force of the municipal law. The evolution of the municipalities, the mergers and the improvement of the communal services, are at the origin of a greater professionalisation of the municipalities, which allows them to grant them more autonomy and more responsibility.
Nevertheless, the decision-making of the public authorities is becoming more and more complex and it will be up to the Ministry of the Interior to provide the municipalities with assistance, particularly in the legal, financial and human resources fields. Thus, the alleviation of what is now called "administrative control" is considered essential to reduce, but not eliminate, state control State for the benefit of the state-partner and the state-counsellor.