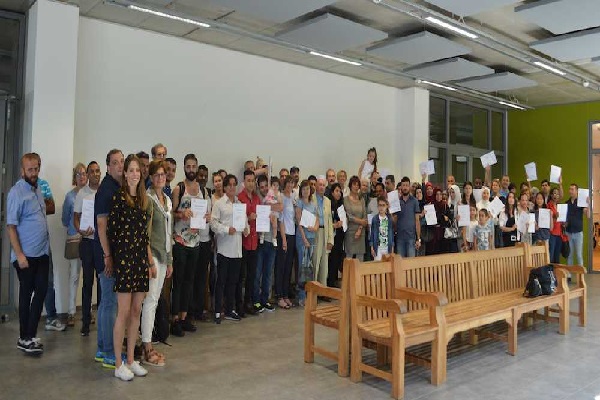 Credit: ASTI
ASTI has awarded certificates to 134 refugees for having participated in the association's language classes.
As part of its project Ma'an Ensemble Zesummen funded by the Oeuvre Nationale de Secours Grande-Duchesse Charlotte (Mateneen projects), ASTI organised a small ceremony for the distribution of certificates of participation to refugee students from its language courses, namely the Latin alphabet and intensive French classes, which took place from March to July 2018.
In total, 159 people were enrolled in the courses, with 134 received a certificate of participation for an attendance rate of at least 70%.
The Latin alphabet classes were offered to refugees who initially did not understand this alphabet in order to learn one of the official languages of Luxembourg. Therefore, ASTI organised three intensive courses on this topic at the Technical High School for Educational and Social Professions (LTPES) in Mersch. 52 people were enrolled in these courses which took place for 8 hours a week, whilst 41 of these learners received a certificate of participation. The courses, led by 8 volunteer teachers, were also supported by translators to facilitate learning.
In addition, ASTI organised six intensive French classes from A.1 in B.1.1 in the buildings of the Adult Education Service in Mersch, which took place for 12 hours a week. These courses were taught by four teachers approved by the Ministry of National Education in addition to the twice-weekly intervention of volunteers to reinforce the acquired knowledge. 44 volunteers intervened in these courses and thus made it possible to establish contact between the refugees and members of Luxembourg society. Out of 107 students, 93 received a certificate of participation.