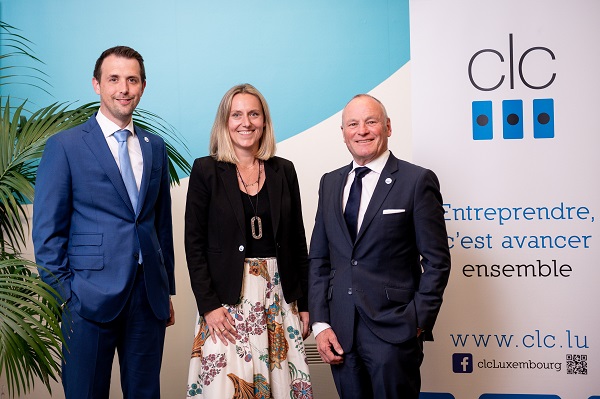 L-R: Tom Baumert, clc Director; Carole Muller, clc President; Fernand Ernster, clc Vice President; Credit: clc
Carole Muller, CEO of the Fischer bakery chain, has been appointed the new President of clc, the Luxembourg Trade Confederation.
On Tuesday 31 May 2022, the clc held its Ordinary General Meeting during which it presented its new President, Carole Muller.
During his opening speech, outgoing President Fernand Ernster highlighted the modernisation process in which the clc has been engaged in recent years, aimed at better serving its members.
After eight years of presidency, Mr Ernster has passed the torch to Carole Muller, in view of renewal. During their meeting preceding the Ordinary General Assembly, the clc board of directors unanimously elected Carole Muller as the new President of the clc.
In her speech, Ms Muller warmly thanked the board for the trust they have placed in her. "The clc requires spirited and determined governance to deal with the current crises and structural problems that are heavily affecting the trade, transport and service sectors", she said, adding that she was confident that together, with its members, the clc will be able to overcome the challenges of the future.
The clc board of directors is now composed as follows: Myriam Brunel; Arthur Carvas; Fernand Ernster; Robert Goeres; Goy Grosbusch; Willy Hein; Marc Hoffmann; Nadine Kirsch-Wagner; Berny Ley; Jacques Lorang; Carole Muller; Jos Sales; Gerry Wagner; Marianne Welter; Georges Zahlen-Karanatsios.
The executive office of the clc is made up of: Carole Muller, President; Fernand Ernster, Vice President; Jos Sales, Vice President; Jacques Lorang, Vice President.
The executive office is complemented, in a statutory manner, by the director of the clc, Tom Baumert.