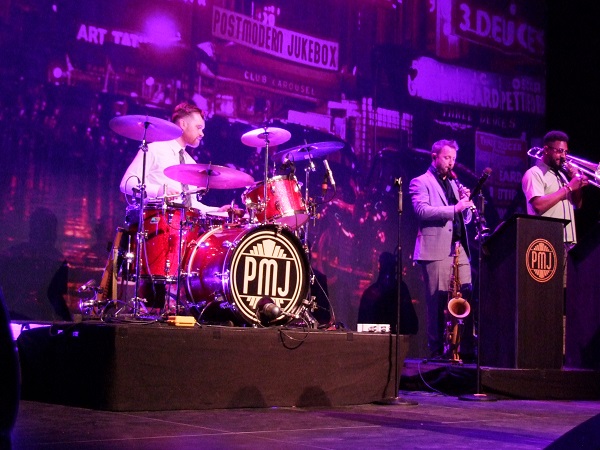 On Thursday 14 September 2023, Scott Bradlee's Postmodern Jukebox kicked off its 30+ days "Life in the Past Lane" international tour - which is passing through no less than fourteen European countries - at the Rockhal in Esch-Belval in the Grand Duchy of Luxembourg.

Described as "today's hits yesterday", the six-piece jazz ensemble (piano/keyboards, guitar, cello, drums/percussion, saxophone and trombone) was joined on stage throughout the 100-minute concert at the Rockhal Club (standing) by three singers, a tap dancer and an MC/singer.

While a jazz band at heart, incorporating plenty of swing, they adapted top hits across various musical genres, from pop to country, including the signature tune of Super Mario Bros. to the Spice Girls, Rihanna, Beyoncé and more. It focussed on the greatest 20th-century musical genres fused with recognisable hits of the modern era, a musical time machine.

The magic of creating classic sounds of the legends of yesterday was not lost on the audience who lapped up the treat that was being served up in front of them, even though - fully understandably as it was the first show of the tour - those on stage got confused a couple of times regarding the sequencing of the playlist.

This wonderful celebration of vintage music and culture was like a step back in time, bringing modern (and recent) top songs along for the ride, adapted to the bygone age when one could select a tune from a jukebox and sit back, taking in everything - the music, the atmosphere, the ambience...

With a myriad of costume changes for the MC and the singers, with Tia Simone to the fore, the stage was ever-changing, like revolving doors in the wings. The musical collective touring group put on a great show of vintage arrangements of modern hits and promised to return in the future.