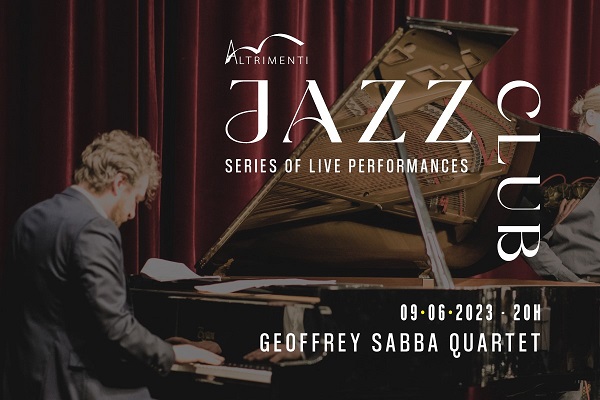 The Altrimenti cultural centre in Luxembourg-ville (5 Avenue Marie-Therese) is launching a Jazz Club, starting from this week; they intend to organise every month one jazz event, the first being this Friday 9 June 2023 at 20:00.
The artistic manager of this event, Geoffrey Sabba, is launching the Jazz Club cycle with a performance of his own band, the Geoffrey Sabba Quartet (Geoffrey Sabba – piano; Simon Acquaviva – guitar; Rémy Narozny – drums; Thadée Sarter – double bass).
The Geoffrey Sabba Quartet is a dynamic jazz ensemble from French Lorraine. The initial idea of bringing this group together matured for a couple of years, with the first seed planted back in the student days. As from then, musicians devoted their time to improving musical and technical literacy, up till meeting the last missing piece – a solid and melodic double bass player. Led by pianist and composer Geoffrey Sabba, the quartet's music is infused with captivating rhythms and harmonies of jazz mixed with classical music and rock. With a repertoire that spans both classic and contemporary jazz compositions, along with the quartet's original tunes, a unique combination of intuition, imagination and talent lets plenty of room for creative improvisation that fuels the band's chemistry.
Doors open at 19:00, with the concert starting at 20:00.
Tickets €20 from https://altrimenti.lu/activites/jazz-club-altrimenti-geoffrey-sabba-quartet/