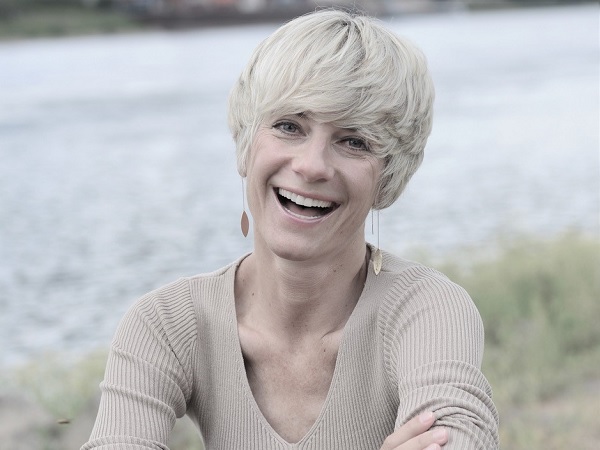 Adrienne Haan; Credit: Jack Denver
Luxembourgish-German chanteuse Adrienne Haan, who has performed at the legendary Carnegie Hall in Manhattan in New York City, will be performing on no less that four occasions in Luxembourg in October / November.
• 20 Oct: French Cabaret @ Purple Lounge, Casino2000 in Mondorf-les-Bains
• 9 Nov: Kurt Weill Soiree under the patronage of the German Embassy @ the theatre in Esch-sur-Alzette
• 12 Nov: Between Fire & Ice @ the Cerclé to celebrate the 20th anniversary of the Luxembourg Zonta Club multiculturelle
• 13 Nov: Swing-Jazz Matinee @ the Abbaye de Neumünster in Luxembourg-Grund
As previous announced on Chronicle.lu, the Casino2000 in Mondorf-les-Bains is hosting a French Cabaret Night on Thursday 20 October 2022 at 21:00, featuring Adrienne Haan whom the The New York Times calls the "First Lady of Cabaret". In this, Adrienne Haan presents a tribute to French chanson with Benjamin Schaefer on grand piano, winner of several jazz awards. Their resulting French Cabaret promises to be emotional, seductive and hugely entertaining. The show will be a homage to the French song with interpretations by Edith Piaf, Charles Aznavour and Jacques Brel. Adrienne Haan will also present songs by French exiles Walter Jurmann and Kurt Weill with her powerful voice, before moving on to a more modern style with jazz-pop songs by Patricia Kaas and the Canadian Isabelle Boulay. Tickets cost €20 online from https://casino2000.lu/en/events/cabaret-francais-adrienne-haan/
Then, on Wednesday 9 November 2022 at 20:00, Adrienne Haan sings Kurt Weill. At the crossroads between drama and opera, this German-born composer, who went into exile in the United States, is known to have been censured by the Nazi regime owing to his Jewish descent and his sympathy for communism. Adrienne Haan interprets his most beautiful songs, offering a musical voyage in German, French and English through time and the continents, from Weimar period's Berlin to his exile years in France all the Broadway of the forties. Tickets €20 / €16 from https://theatre.esch.lu/en/event/adrienne-haan-sings-kurt-weill-3/
On Saturday 12 November 2022, the Luxembourg Zonta Club multiculturelle is celebrating its 20th anniversary at the Cercle Cité in Luxembourg-ville with a Cabaret Dinner, featuring Adrienne Haan, followed by a evening of dancing to the tunes of a DJ. See https://zonta-area01-27.org/clubs/zc-luxembourg-multiculturel/; For tickets, email: zclmbureau@gmail.com
The following day, Sunday 13 November 2022 at 11:00, Adrienne Hann will also be performing, this time "Till the End of Time" with Benjamin Schaefer at the Swing-Jazz Matinee at the Abbaye de Neumünster in Luxembourg-Grund. In what will be her Abbaye de Neumünster debut, she will perform her tribute to The Great American Songbook, an entertaining soirée of the highest calibre. Distinctive interpretations of these classics were arranged to compliment her unique stage presence and vocal prowess. Accompanied by Benjamin Schaefer on piano, this energetic and lively production includes songs such as Adrienne's special version of "Blue Skies," a Sinatra Medley, her bossa nova rendition of "All or Nothing At All" as well as many other known and lesser known oeuvres of great American classics. Tickets go on sales soon at https://www.neimenster.lu/evenements/adrienne-haan-benjamin-schaefer/
Chronicle.lu reached out to Adrienne Haan and asked what she will be doing in between her Luxembourg performances. She confirmed that she will be performing for the United Nations - she explained that she was hired by the Permanent Mission of the International Francophonie to the UN as the first Luxembourg artist to perform during the 77th National Assembly and artistically represent Luxembourg with an all-French cabaret for a very high-rank audience (foreign ministers, prime ministers and other head of French-speaking states from all around the world will be present). She will be accompanied by Richard Danley on the piano and this time, Paul Wells on drums. She stated "It is a great honour for me having been chosen by the Francophonie to perform on that day and needless to say I am thrilled. It gives me the opportunity to perform for some of the world's greatest leaders during an event that is more important than ever. The UN is trying to make the place a better world and, as you know, all my shows have a bridge-building message, hence my work fits well into that circle".
Adrienne Haan continued "I am also performing Cabaret Français in New York City before performing it in Luxembourg (at the Casino2000) in which I am including Broadway star and America's Baritone William Michals who will be singing a few duets with me. I am also on tour in Germany with performances mainly in (the former) East Germany which is new to me and very exciting: Erfurt, Leipzig, Dresden, then heading to Cologne and Bergneustadt and back to Berlin and Magdeburg next spring. So I am touring in Europe for two months in the fall (autumn) before returning to New York for 'my' Irving Berlin Christmas show 'White Christmas at the Triad' that will be shown at my theatre of residence, the Triad Theater in New York City, as well as the Luxembourg Consulate General in New York. The writer and producer of this show is the Cultural Attaché and Executive Assistant of the Consulate General of Luxembourg in New York, Laurence Pierron. I am hoping to bring this show to Luxembourg soon, because there are huge connections between the greatest American composer who ever lived, Irving Berlin, and Luxembourg."
She concluded "As usual it is a great pleasure for me to return to my paternal country Luxembourg and present so many of my different soirées at some of the most prestigious venues in Luxembourg in a short period of time. I love my Luxembourg audiences".