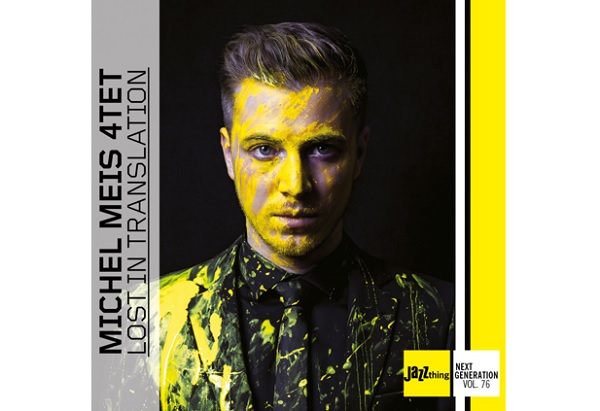 Michel Meis 4tet Debut Album cover - Lost in Translation;
The Luxembourgish jazz quartet Michel Meis 4tet will release its debut album "Lost in Translation" on Friday 1 February 2019 at 20:15 at the CCRD Opderschmelz in Dudelange.
The album "Lost in Translation" is in the "Next Generation" series of the German jazz magazine Jazz thing and the German label Double Moon Records – a first for a Luxembourgish artist.
"Lost in Translation" consists of seven original tracks and a cover of the Depeche Mode song "Heaven". It is his everyday life that inspired Michel Meis for this album, which is an adventure that he discovers and shares with his fellow musicians. There's no black or white, free or structured, but a synthesis of these elements. A play of opposites.
"To me, being torn between different options doesn't mean being undecided, but rather passionately breaking down apparent barriers. Bringing opposites in a dialogue, that is "Lost in Translation"."
"Lost in Translation" will be available worldwide on all streaming and download platforms as well as in CD stores.
Michel Meis – Drums Alisa Klein – Trombone Cédric Hanriot – Piano Stephan Goldbach – Double Bass
The rising star of the Luxembourg jazz scene, the young drummer and composer Michel Meis proposes a group with traditional instrumentation, but with a future oriented approach and sounds and climates borrowed from a variety of musical styles. The result: a resolutely modern jazz sound. An exciting, well-crafted sonic universe between melancholy and energy, in which complicity, improvisation and audacity all have their place.
The official release concert on 1 February will also be the occasion to release the official music video.
Tickets €15, €20 from http://www.opderschmelz.lu/agenda/1396_1088