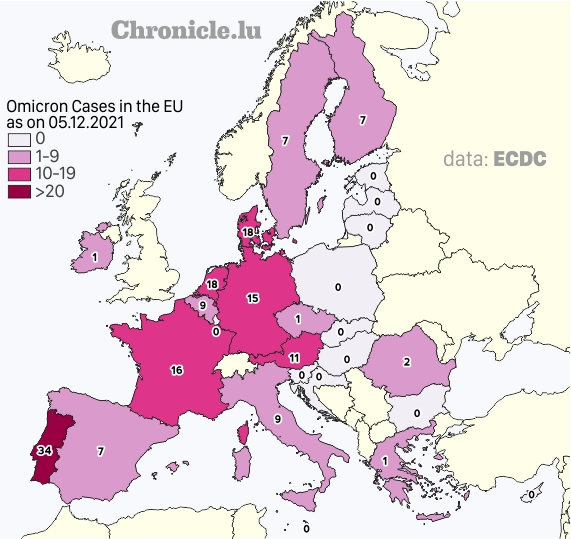 Number of Omicrom cases reported in the EU;
As of 5 December 2021, 156 confirmed SARS-CoV-2 Omicron variant of concern (VOC) cases were recorded in the European Union (EU).
On 26 November 2021 the variant was designated a VOC by the World Health Organization (WHO) and the first travel-related cases were detected in Belgium. In a span of ten days, fifteen EU member states have reported at least one case of Omicron, most of them in relation to travel to / from countries in Africa.
According to the epidemiological report of the European Centre for Disease Prevention and Control (ECDC), Belgium, Germany and Spain have also detected cases without an epidemiological link to areas where community transmission of the Omicron variant is documented or presumed, suggesting undetected community transmission could be ongoing.
Regarding the severity of Omicron cases in the EU, either asymptomatic or mild symptoms and no deaths have been reported so far.
ECDC has assessed the overall level of risk for EU / European Economic Area (EEA) countries associated with the further emergence and spread of the SARS-CoV-2 Omicron VOC as "High to Very High" and has advised: "It is likely that within the coming weeks the effectiveness of travel-related measures will significantly decrease, and countries should prepare for a rapid and measured de-escalation of such measures".