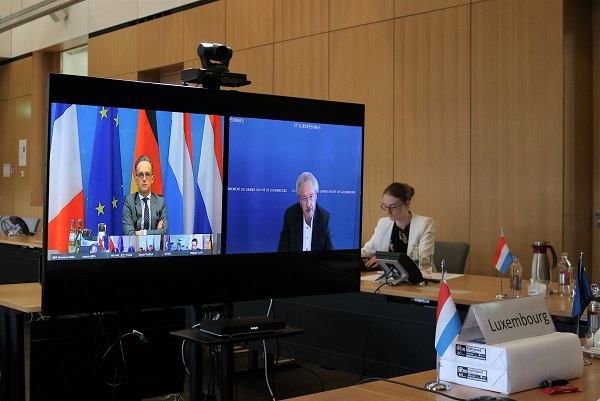 Minister Jean Asselborn in videoconference; Credit: MAEE
On Wednesday 20 May 2020, Luxembourg's Minister for Foreign and European Affairs, Jean Asselborn, participated in a videoconference with the Ministers of Foreign Affairs of the European countries neighbouring Germany with the aim of coordinating approaches in the area of ​​reinstating freedom of movement in the European Union.
The initiative had been taken by Germany's Federal Minister for Foreign Affairs, Heiko Maas. Also participating in this videoconference were the Ministers for Foreign Affairs and Secretaries of State of Austria, Belgium, Denmark, France, the Netherlands, Poland, the Czech Republic and the Swiss Confederation.
The videoconference was an opportunity for the ministers to have a discussion and an exchange of views on the importance of coordinating the various deconfinement measures, in particular with regard to the reinstatement of freedom of movement, a central value of the European Union. The ministers welcomed the guidelines and recommendations for a common approach in the gradual resumption of freedom of movement, presented by the European Commission on 13 May 2020.
While recognising that the epidemiological situation differs from country to country, the ministers agreed on the importance of coordinating approaches as closely as possible.
Minister Asselborn presented an inventory of the current epidemiological situation in Luxembourg as well as his "exit strategy", before returning to recent positive developments in freedom of movement. The Minister welcomed the opening of the borders with Germany since last Saturday. "For the citizens of our highly integrated cross-border region, this is a very important step forward and also a important signal at European level" he stated.
According to Minister Asselborn "the Schengen area and the internal market can only work as a whole. Restrictions and controls at the internal borders of the Schengen area are not an exclusively bilateral issue between two Member States, but they concern all Member States. We must commit to gradually reopening internal borders and ensuring that citizens can once again fully benefit from the four freedoms and do so in complete safety."