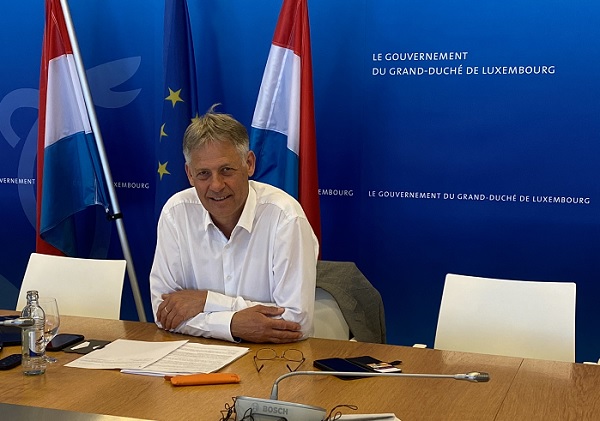 Henri Kox, Minister Delegate for Internal Security; Credit: MSI
On Friday 15 May 2020, Luxembourg's Minister responsible for Internal Security, Henri Kox, participated in a meeting, held by videoconference, of the Interior Ministers of the European Union in the context of the COVID-19 pandemic.
Discussions focused on the next steps in the progressive and coordinated approach for the restoration of freedom of movement and the lifting of internal border controls.
Minister Kox thanked the Commission for the tremendous work it has done in the area of ​​borders, transport and tourism. He recalled the progress made on the ground in recent months to increase mobility, in particular thanks to the measures relating to "green lanes" and for cross-border workers. The Commission has a central role to play in protecting the Schengen system and the single market. In addition, bilateral cooperation between neighbouring countries has considerably strengthened and Minister Kox has welcomed the progress made at Luxembourg's borders over the past week. In this context, he recalled that the images taken during border checks carried out at Schengen on Europe Day were a disastrous signal to citizens.
Regarding the gradual lifting of internal border controls, Minister Kox recalled that Luxembourg fully supports the urgent need to lift border controls since Luxembourg is one of the few countries that has never closed its borders with its neighbouring countries. The Luxembourg model is therefore proof that it is possible to keep borders open while controlling the spread of the virus.
Luxembourg welcomes the emphasis placed by the Commission on the principle of non-discrimination on the basis of the nationality of the persons concerned. In addition, it accepts the principle of similarity of measurements on both sides of the border. Luxembourg also still has open questions on the use of digital contact tracing, the interoperability of systems in a cross-border situation - in particular in an economy as open as ours - and data protection issues.
Minister Kox also called for an open debate on the criteria proposed by the Commission, hoping that these criteria will not be used by some to justify the maintenance of border controls, or to use them as a pretext to verify the reason of a border crossing. According to the minister, we must put more emphasis on restoring the integrity of the Schengen area as a whole.
Finally, Minister Kox hoped that this year's summer season will not be lost for the European tourism sector and awaits further information from the European Commission and the ECDC on the situation in the various destination countries and possible restrictions in terms of of travel.