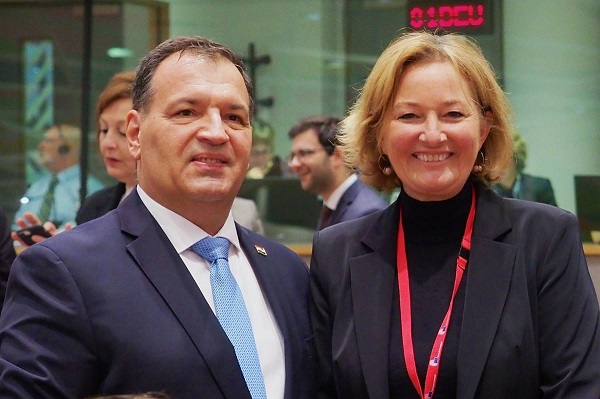 L-R: Vili Beroš, Croatia's Deputy Minister for Health, EPSCO President; Paulette Lenert, Luxembourg's Minister of Health; Credit: EPSCO Presidency
On Thursday 13 February 2020, the EU Ministers of Health met in Brussels to discuss the measures to be taken in response to the coronavirus epidemic.
The health ministers, among which was Luxembourg's recently appointed Minister of Health, Paulette Lenert, yesterday met for an extraordinary European Council meeting convened by the Croatian Presidency.
The ministers called for enhanced dialogue between EU member states, carried out with the help of the European Commission, in order to better align the preventive and preparatory measures which are necessary in the face of the coronavirus epidemic. The health ministers also insisted on the need to implement proportionate measures, based on scientific data, strictly following the recommendations of the international authorities in order to ensure that the measures taken at the national level are consistent.
On this occasion, Luxembourg's Health Minister Paulette Lenert stated that "as ministers of health, it is our duty to implement all the means necessary to guarantee the safety and health of citizens". She informed her colleagues that "over the past ten days, several suspected cases of coronavirus - which have fortunately turned out to be false alarms - have made it possible to test the operationality of our pandemic plan. The recommendations of the World Health Organization (WHO), the European Centre for Disease Prevention and Control (ECDC) and the Health Security Committee (HSC) have usefully guided us in our approach".
At the end of the Council, the Health Ministers unanimously adopted Council conclusions on the new coronavirus COVID-19, which welcome the effective EU response and call on member states to take the necessary measures to strengthen their cooperation. The Commission is encouraged to examine ways to facilitate member states' access to personal protective equipment and to assess the consequences of global health threats on the availability of medicines in the EU.