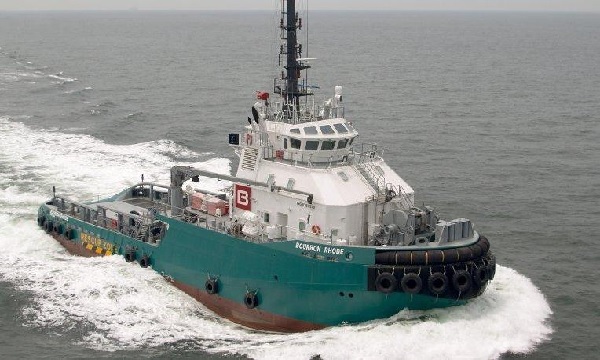 Bourbon Rhode; Credit: Bourbon Offshore
The Luxembourg Maritime Administration has announced that, last Thursday, a ship flying the Luxembourg flag got caught up in a hurricane and sank off Martinique.
On Thursday 26 September 2019, the Luxembourg-flag tug supply vessel "Bourbon Rhode" was in transit 1,200 miles from Martinique with fourteen crew members when the boat had to cope with adverse weather conditions related to the category 4 Hurricane Lorenzo. The vessel sent a distress message when water began flowing into the stern (rear of boat).
The Bourbon Group, which owns the ship and specialises in marine services for the oil industry, immediately set up a crisis unit. In close collaboration with the competent authorities, including the Antilles-Guyane Regional Operational Centre of Surveillance and Rescue (Centre Régional Opérationnel de Surveillance et de Sauvetage; CROSS), this unit is in charge of the search and rescue operations. Following receipt of the distress alert, several merchant navy ships were diverted to the scene of the wreck to offer assistance, as well as an aircraft from the US National Hurricane Center. The French Navy also sent a Falcon 50 jet specially equipped for this type of mission.
On Saturday 28 September 2019, the rescue teams recovered a lifeboat with three crew members on board. The boat was spotted by the Falcon 50. An assisting merchant ship provided medical care to the crew members. The Bourbon Rhode was confirmed as sunk.
With improving weather conditions, all means are still being deployed to continue the search for the remaining eleven missing sailors. The shipowner has confirmed that it remains mobilised and is providing all possible support to the families of the seafarers concerned, while ensuring contact with the Luxembourg authorities, in particular the Luxembourg Maritime Administration.
For its part, Luxembourg's Administration of Technical Investigations (AET) has opened a security investigation. The AET shared news of the event with Croatia, the Philippines, Russia, the Czech Republic, South Africa and Ukraine and is coordinating the security investigation with the respective investigating authorities.