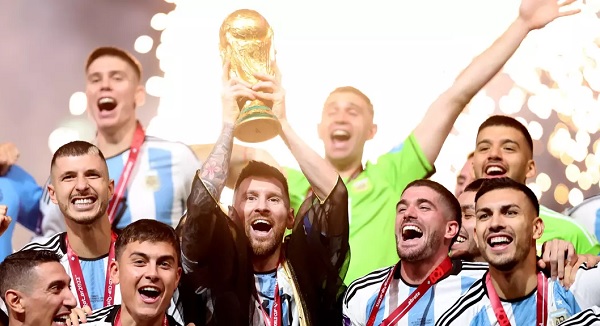 Argentina Celebrate winning the FIFA World Cup 2022; Credit: FIFA
On Sunday 18 December 2022, the final took place of this year's FIFA World Cup at the Lusail Iconic Stadium in Qatar.
The match took place between Argentina, winners in both 1978 (when they defeated the Netherlands) and in 1986 (when they overcame West Germany), and France, the holders (they defeated Croatia in 2018).
Despite being the favourites by many before the tournament started, Argentina had a nightmare start to this tournament when they were shocked by outsiders Saudi Arabia; however, they recovered from this setback to beat both Mexico and Poland to top their group. In the knock-out phase, they overcame Australia, the Netherlands and Croatia to reach the final.
On the other hand, France, despite being the holders, were not expected to do well going into the tournament, with top players including Benzema, Pogba and Kanté all injured. They started the tournament well, defeating Australia and Denmark, before losing to Tunisia, but that was after having already qualified for the knock-out phase and rested a number of players. They then went on to defeat Poland, France and Morocco to reach the final.
The intercontinental clash was billed as Lionel Messi against Kylian Mbappeé teammates at Paris Saint-German (PSG) in France. Would this be 35 year-old Messi's last stand? Would he lift the trophy at surely his last World Cup tournament, and pass on the mantle to 23 year-old Mbappé?
The game kicked off with both teams tackling hard, neither giving any quarter. On 5 minutes, Mac Allister had the first shot on goal, with Lloris saving comfortably. A few minutes later the French goalkeeper required some treatment on the pitch after colliding with Argentina's defender Romero, club colleagues at Tottenham Hotspur. Argentina gained possession in midfield and Di Maria came on off the left wing to shoot over. Up the other end, Giroud saw a flying header go over the bar after a free kick from the other side of the box from Griezmann. On 21 minutes, Argentina were awarded a penalty when Di Maria was deemed to have been fouled by Dembelé in the box. Up stepped Messi who sent Lloris the wrong way and slotted the ball into the back of the net with his left foot, for his 97th goal for his country. 1-0 to Argentina. The match was being played at both ends, but the pace was not frenetic, rather stop-start. But it was Argentina who seemed to have the upper hand, to have more drive, with France not seeming to he able to get out of first gear. On 35 minutes, France were pressing up the pitch, but Argentina regained possession in midfield; Mac Allister ran onto a through ball from Álvarez up the centre and passed to his left where Di Maria ran onto the ball and shot with great composure over the lunging Lloris, for Argentina to go 2-0 up. Di Maria was having a brilliant game and fully deserving of his goal, as he was undoubtedly the best player on the pitch. The Argentinian supporters in the crowd were in full voice, singing loudly and continuously. On 40 minutes, Giroud and Dembelé were replaced by Thuram and Kolo Muani as Didier Deschamps made 2 substitutions before half-time, in an attempt to shake things up and ti try and get a goal back. 7 minutes of added time announced. HT 2-0 to Argentina.
In the first half, Mbappé had hardly had a look-in, Griezmann had not seen much of the ball at all and France were simply off the pace. The second half started as the first ended, with Argentina in the ascendancy. With a minute of the restart, Mac Allister ran onto a through ball but Lloris beat him to the ball. And De Paul forced Lloris into making a save a minute later. But France then seemed to be a bit more lively, and win a corner, only for Martínez to make what looked an easy save. Argentina were slowing the ball down. Rabiot picked up a yellow card for a bad challenge on De Paul. On 60 minutes, Di Maria crossed the ball with Messi getting onto the end of it, but his shot was just wide. But still Mbappé had hardly been in possession of the ball, and France had still not had a shot on target all game. Mac Allister ran onto another through ball, but Lloris was off his line to deny the South Americans a third goal. On 64 minutes, Argentina made their first substitution of the game, with Di Maria making way for Acuña. France made a rare attack but Griezmann's cross was not met by any teammates and the threat was snuffed. On 70 minutes, Mbappé did manage to get the ball and dribbled his way into the box only to see his shot sail over the crossbar, not troubling Martínez in goal. France then made two more substitutions, with just 20 minutes left to play in the final. Argentina still had the vast majority of possession, probing the French midfield and defence. But suddenly France had a break down the left flank, with Otamendi adjudged to have brought down Fofana in the box. Penalty to France! Up stepped Mbappé who slotted the ball past Martínez in the bottom left corner. 2-1 to Argentina. Could France cone back from the dead? Just a minute later, on 81 minutes, France seemed to wake from a slumber; Mbappé played a 1-2 in the Argentinian goal and scored past Martínez! 2-2! Messi was looking crestfallen, with his hands on his knees. In a side plot, within 2 minutes, Mbappé had also overtaken Messi in the race for the tournament's Golden Boot. France were now in the ascendancy; they got the ball in the box again and Thuram went down with France appealing for a penalty. But the referee was not deceived and instead gave Thuram a yellow card for diving. 8 added minutes announced. France had another attack down the left, with Rabiot's shot saved by Martínez. Argentina attacked and Messi let fly with a pile-driver, but Lloris pulled off a flying, one-handed save to keep the score level. FT 2-2. Extra time…
Argentina replaced their right full-back, taking off Molina who could not cope with Mbappé, with Montiel replacing him. And Fofana replaced Rabiot for France. He won a free kick deep in the Argentinian half, which then resulted in a corner; but the referee blew for an off-side. The tackles were flying in, from both sides, with players tiring and the final whistle approaching. Upamecano made a sliding block to deny La Martínez for Argentina which looked a certain goal; soon afterwards he made another crucial block as Argentina seemed to get a second wind. HT in Extra Time: 2-2. On 17 minutes, Messi got another shot on target, but Lloris dived to his left to keep it out. On 18 minutes, Lloris saved brilliantly from La Martínez but Messi got to the rebound to send the ball over the line despite the attempts of the French defence to keep it out. 3-2 to Argentina! What drama! Paredes then received a yellow card for a bad challenge. Pezzelka then replaced Mac Allister to give Argentina more height in defence. Then France were awarded a penalty for a hand-ball in the box. Mbappé stepped up and sent Martínez the wrong way. 3-3! Argentina earn another corner… France break and Mbappé crosses for Konaté, but he cannot reach it. 3 added minutes announced. Both teams make substitutions with penalties on the horizon. Then it was end-to-end, with Martínez making the save of his life, with his feet, to keep Argentina in the game; seconds later, Messi cut the ball back but La Martínez' shot was just wide. FT 3-3, and penalties after an extraordinary final.
France go first. Mbappé scores, Messi scores (1-1); Martínez saves from Coman, Dybala scores (2-1 to Argentina); Tchouaméni misses, Paredes scores (3-1 to Argentina); Kolo Muani scores, Montiel scores (4-2). Argentina wins the 2022 World Cup!
Arguably the greatest World Cup final; Messi scores 2 goals and wins the trophy, signing off his international career by winning the biggest prize in football; and, although he ended up on the losing side, Mbappé scores a hat-trick and wins the Golden Boot.