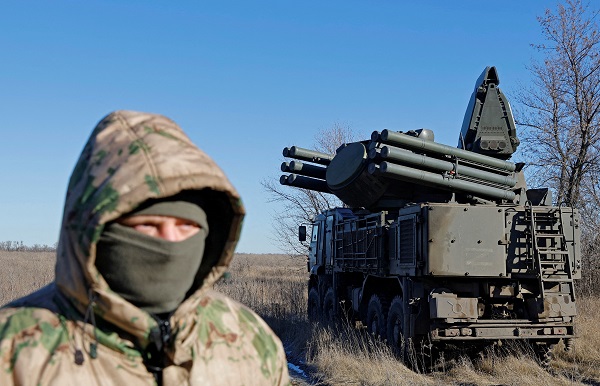 A Russian service member stands in front of a Pantsir anti-aircraft missile system on combat duty in the Luhansk region on 25 January 2023; Credit: REUTERS/Alexander Ermochenko
(Reuters) - Russia pressed its intensifying winter assault in eastern Ukraine, bringing tens of thousands of freshly mobilised troops to the battlefield, while Kyiv predicted areas in the northeast or south could be part of an expected Russian offensive.
BATTLEFIELD LATEST
Ukraine's military said on Tuesday 7 February 2023 that 1,030 Russian troops were killed over 24 hours, the highest daily toll of the war. For its part, Russia said it had inflicted 6,500 Ukrainian casualties in the month of January. Reuters could not independently verify either report.
Ukraine national security chief Oleksiy Danilov said in an interview the Kremlin was expected to target the north-eastern Kharkiv or southern Zaporizhzhia regions in a new thrust.
The Ukraine military said on Tuesday evening that more than 30 towns and villages in Kharkiv and 20 communities in Zaporizhzhia came under fire.
DIPLOMACY
A new US package of weapons is expected to include longer-range rockets, which would give Ukraine the ability to hit Russian supply lines in all of the territory it occupies in Ukraine's mainland and parts of the Crimea Peninsula.
The German government's security council has approved delivery of 178 Leopard 1 tanks to Ukraine from industry stocks, considerably more than previously announced, a source said, confirming an earlier Spiegel magazine report.
Denmark, Germany and the Netherlands will pool funds to restore at least 100 old Leopard 1 tanks from industry stocks and supply them to Ukraine, according to a joint statement.
Russia says Western arms shipments to Ukraine are dragging military alliance NATO into the conflict with a potentially "unpredictable" level of escalation.
Switzerland is close to breaking with centuries of tradition as a neutral state, as a pro-Ukraine shift in the public and political mood puts pressure on the government to end a ban on exports of Swiss weapons to war zones.
The Paris mayor says there should be no Russian delegation at the Paris 2024 Olympics as long as the war is ongoing.
Russia has demanded that the US embassy in Moscow stop spreading what Moscow regards as fake news regarding its military operation in Ukraine and has threatened to expel US diplomats, the TASS news agency reported.