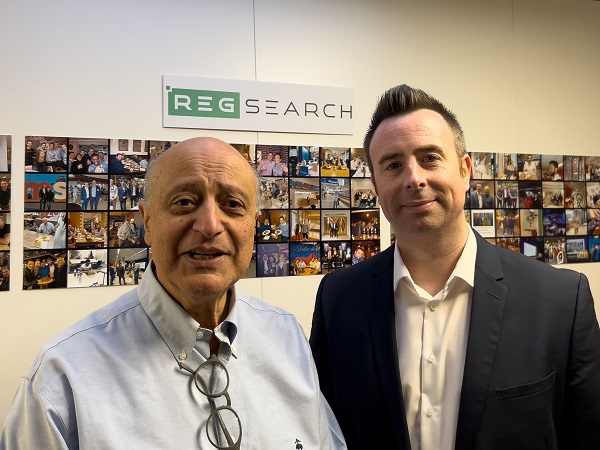 L-R: Jas Madhur, International Business Development at Regsearch; Darren Douglas, CEO & Founder of Regsearch; Credit: Ali Sahib
Chronicle.lu recently talked with Darren Douglas, CEO and founder of Regsearch, a start-up that currently works out of The Office in Luxembourg city centre, to learn more about regulatory technology and the start-up's plans for the future.

Chronicle.lu: We understand that your start-up focuses on RegTech. Many people have heard of FinTech, but what is RegTech?

Darren Douglas: RegTech is solving regulatory challenges that everyone is facing with innovative technology and not consulting.

Chronicle.lu: Please explain what Regsearch does.

Darren Douglas: Regsearch solves challenges such as regulatory change with our AI (artificial intelligence) REGI.

Chronicle.lu: What is your background and how did it lead to what you are doing now (including how you came to Luxembourg)?

Darren Douglas: Actually, I ended up in the world of compliance by chance. I come from a council estate in Ireland, I completed my Business degree in the evenings while working in logistics. I was always a tech enthusiast and had a very entrepreneurial mindset. I got an opportunity to work in compliance after I got my degree and my career went from strength to strength, but I found corporate world didn't offer me a lot of freedom to implement change on a large scale.
I wanted the power to be able to create and to challenge the norm. My personal goal is to help kids who, just like me, are coming from a lower socio-economic background and have a drive to improve their lives, by creating an environment for them to learn and to get access to opportunities. I ended up in Luxembourg as I used to work here in 2012 and my friend Jack Smith pushed Luxembourg hard as a place we could succeed in.

Chronicle.lu: Who is involved in the start-up, and what are your roles?

Darren Douglas: I am the founder and CEO; Datta Devane is co-founder and CTO; Graham White is co-founder and CMO; Jas Madhur is responsible for International Business Development; David Hagen is Regulatory Expert/Advisor; Lauren Burnhill is Impact Advisor; Steve Glange is Business Advisor. Also, we have six fantastic developers in Goa, India.

Chronicle.lu: At what stage is the start-up? Have you a beta version? Do you have clients? Are you looking to get investor(s) on board?

Darren Douglas: We are getting ready to scale, we have international clients and will be raising a seed round at the end of 2023.

Chronicle.lu: Have you received any funding/support from Luxembourg entities?

Darren Douglas: No, we have not received any funding and found this is very challenging in Luxembourg. In our experience, the decision-making lies in the hands of a small group of people and, in my opinion, this group lacks the ambition to help support in the creation of a Luxembourgish tech Unicorn. When Regsearch achieves this goal, our goal will be to help start-ups like us. In terms of support, there are great people in the start-up ecosystem in Luxembourg that are always willing to help.

Chronicle.lu: What are your next steps?

Darren Douglas: Expand in Switzerland, Isle of Man, Canada this year and raise capital to push our innovative tech globally.