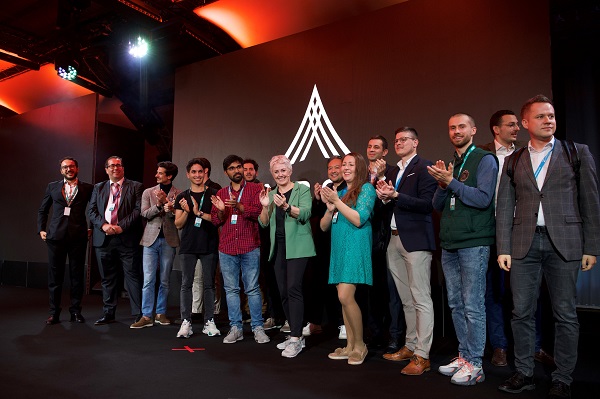 Participants of the 13th edition of Fit 4 Start with Sasha Baillie, CEO of Luxinnovation; Credit: Luxinnovation / Nathan Ernst
Fifteen startups from nine countries have been selected to participate in the thirteenth edition of the Fit 4 Start accelerator programme in Luxembourg.
For this new edition, in addition to six months of coaching, pre-seed funding and privileged access to the key players in Luxembourg's startup ecosystem, participants will also be encouraged to reflect on how their products and services can have a positive lasting impact, as the Luxembourg House of Financial Technology (LHoFT) becomes an official partner.
Fit 4 Start is initiated and managed by Luxembourg's Ministry of the Economy and the national innovation agency Luxinnovation with the support of Technoport, Luxembourg-City Incubator, LuxProvide and now also the LHoFT.
After two years of digital pitching sessions, Fit 4 Start returned with its traditional physical pitching event on Wednesday 26 and Thursday 27 October 2022, organised as part of Tomorrow Street's flagship tech event, Arch Summit. 67 pre-selected startups (out of more than 300 applications from 58 countries) presented their projects to a jury made up of experts, seasoned entrepreneurs and investors who selected the ten startups in the digital/data-driven sector and the five startups in the healthtech sector who will together form the thirteenth Fit 4 Start cohort.
Participants will receive six months of personalised coaching, networking opportunities and pre-seed funding of €50,000 from Luxembourg's Ministry of the Economy. Graduates of the programme who manage to raise private capital have the opportunity to receive an additional €100,000.
"Startups have an important role to play in supporting the sustainable transition of our economy towards a more digital and green economy. This edition of Fit 4 Start will therefore also include awareness-raising activities and specialised coaching on how participating companies can have a lasting positive impact", commented Luxembourg's Minister of the Economy, Franz Fayot.
"The slogan of this edition of Arch Summit, 'innovation with impact', perfectly reflects our ambition with Fit 4 Start. We want the programme to have a real and concrete impact on the startups that participate in it. Our ultimate goal, as a government-funded agency and programme manager, is that their successful development in Luxembourg contributes to framing our economy of tomorrow in a sustainable and competitive way, with the seventeen United Nations Sustainable Development Goals as a benchmark", said Sasha Baillie, CEO of Luxinnovation.
Stefan Berend, Head of Startup Acceleration at Luxinnovation, added: "The LHoFT is the expert entity of the fintech ecosystem in Luxembourg and will be a valuable partner for Fit 4 Start. We look forward to creating more value with it for our innovative fintech startups".
Selected startups
Digital/data-driven: 2AM - Advanced Materials & Additive Manufacturing (Latvia); DèsVu Stays (Luxembourg); DPhi (Belgium); Eyrene (US); Fundis ESG (Luxembourg); Gonuggets (Luxembourg); Stargate RTK (Estonia); U Impact (Germany); Warden Machinery (Latvia); Wiretwin (Luxembourg).
Healthtech: Poly Diagnostics (Ukraine); Posture AI (Korea); Surge (France); VSPINE / MDSIM (Belgium); Wavymeet (Luxembourg).