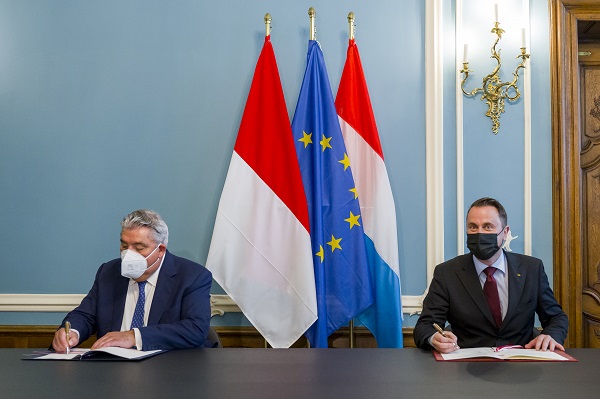 L-R: Pierre Dartout, Minister of State of Monaco; Xavier Bettel, Luxembourg's Prime Minister & Minister of State; Credit: © SIP / Jean-Christophe Verhaegen
On Thursday 15 July 2021, Luxembourg's Prime Minister Xavier Bettel received the Minister of State of Monaco, Pierre Dartout, for an interview at the Ministry of State in Luxembourg-Ville.
Discussions focused in particular on bilateral relations and more specifically relations in the digital field. Monaco and Luxembourg have both made digital transition a priority to support the modernisation of their administration and promote innovation in their respective territories.
Consequently, Ministers Xavier Bettel and Pierre Dartout signed an agreement concerning the hosting of Monegasque data and information systems in a Luxembourg data centre. This agreement is the result of a declaration of intent signed between the Monegasque and Luxembourgish governments in 2018.
Saving sensitive data in a Luxembourg data centre provides guarantees of immunity and privileges similar to those of an embassy. Data for Estonia are already hosted in Luxembourg on the same model. According to Luxembourg's Ministry of State, it had become strategically important for Moncco to find a solution to preserve certain data against the risks of cyberattacks or natural disasters, guarantees that are impossible to put in place on a territory of 2 km 2.
This partnership will also allow the Luxembourg Government IT Centre (Centre des technologies de l'information de l'État - CTIE) and the interministerial delegation for the Monegasque digital transition to share their expertise and experiment on future themes such as the dematerialisation of administrative procedures or eHealth.
The two governments welcomed the establishment of this partnership, which is fully in line with European cooperation programmes on innovation and digital security.
Prime Minister Xavier Bettel emphasised that "this partnership on digital innovation strengthens Luxembourg's role as a centre of digital trust and confirms the progress of electronic administration in Luxembourg".